Speedway SuperAmerica CEO to Lead United Way Campaign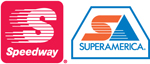 SPRINGFIELD, Ohio -- Tony Kenney, president of the Speedway SuperAmerica convenience store chains, was selected to lead this year's Clark County United Way campaign, as the company has been a long time supporter of the United Way, Doug Lineberger, executive director of the United Way of Clark, said in a Springfield News-Sun report.

"Tony's been someone who believes in the United Way and believes it's important to help people," he said in the report.

As chairman, Kenney hopes to meet or exceed the campaign goal, as the United Way did during this latest campaign for the first time in a few years. A $1-a-week donation to the United Way can buy six vaccines, 12 hot meals for the elderly or a week of groceries for a disaster victim, the report stated. Every little donation adds up, Kenney said, even $1 a week. "It really doesn't take much," he said in the report.

The United Way is emphasizing the "Club 52" effort for its 2010 campaign, which kicks off Friday, Sept. 10, with a community golf scramble, and is asking those who don't donate to consider giving $1 a week or current donors to increase their giving by $1 a week.

"You can be a hero and help someone by giving through the United Way," Lineberger said.