Speedway SuperAmerica Donates $500,000 to New Hospital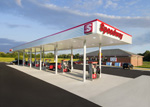 SPRINGFIELD, Ohio -- Speedway SuperAmerica provided a major boost to the capital campaign for the new Springfield Regional Medical Center with a $500,000 commitment over the next five years, the company reported.

The $250 million hospital project remains on budget and ahead of schedule for its projected opening of January 2012. The new facility is a 254-bed full-service hospital that will serve Clark and Champaign counties for decades to come.

"Supporting Springfield's new hospital serves two purposes," said Tony Kenney, president of Speedway SuperAmerica LLC. "It enables us to live our values in a tangible way and also helps to ensure the sustainability of the communities we serve."

The new Springfield Regional Medical Center features all private rooms that are 50 percent larger than current rooms, and will include the most advanced technology, the company reported. Other patient room features include:
• Patients can control the environment. From the bed they can control room lighting, temperature, nurse call and flat panel TV.
• Pull-out couch to accommodate family members. There are no set visiting hours so patients can have ongoing support of loved ones.
• In-Ceiling Patients Lifts in at least 6 rooms in every unit for nurse and patient safety.
• Anti-microbial paint and metal to maintain cleaner, more sterile environment.

The hospital will also have an expanded emergency department with all-private exam rooms -- no more cubicle curtains; an attractive three-story atrium with 46-feet high windows overlooking healing garden; an expansive dining area with large windows and walk-out terrace with seating for about 50; and a pediatric care in 6-bed observation/short stay area up to 72 hours.