Spinx Unwraps Its Largest C-store to Date
Get great content like this right in your inbox.
Subscribe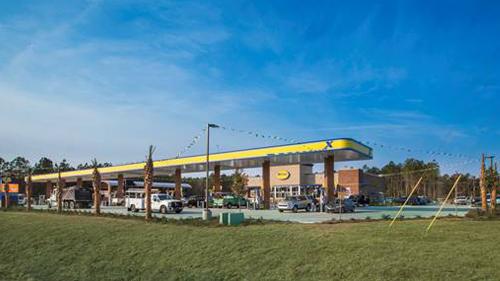 GREENVILLE, S.C. — The Spinx Co. has gone big with its latest convenience store.
The Greenville-based retailer welcomed customers at a newest location in Moncks Corner. Located at 2801 Highway 52, the convenience store boasts 18 fuel pumps, a truck diesel island, and more than 40 parking spaces.
Inside, the 6,188-square-foot store features a full-service kitchen. The kitchen menu offerings include fried chicken, chicken biscuits, and chicken tenders served fresh all day. It also offers made-to-order fruit, yogurt and coffee smoothies, and prepares fresh fruit, yogurt and vegetable cups and sandwiches as part of Spinx's Fresh On The Go offering.
The latest Moncks Corner outlet is also the site for the company's first express tunnel car wash, which is expected to open in early 2018.
Other store selections include cold fountain drinks, lemonade, and iced tea with Spinx's popular "chewy ice," in addition to soft serve ice cream and hand-spun milkshakes. Hot beverages, including bean-to-cup fresh coffee and Nitro Cold Brew, will also be available for purchase, according to the retailer.
"We've heard from so many customers in Moncks Corner and surrounding areas that they wanted another Spinx, and we're excited to open this newest store in such a great location to serve our customers as they travel to and from work, school and other activities," said Stewart Spinks, founder and chairman of The Spinx Co.
The store is the second Spinx c-store in Moncks Corner and the 10th in the Charleston area. In all, the company operates more than 80 convenience stores in South Carolina and is the largest privately held company in the state.