08/14/2018
The Staggering Costs of Foodborne Illness Incidents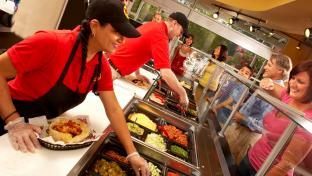 This spring, five people died and nearly 200 became ill after eating contaminated romaine lettuce. The romaine lettuce, believed to be grown in Yuma, Ariz., was tainted with E. coli and distributed to stores, restaurants, institutions and other facilities across multiple states.
Officials have not been able to pinpoint how the lettuce became contaminated, and have had a difficult time tracking exactly which stores, restaurants and other organizations have been selling and serving it. 
This is the worst foodborne illness outbreak since 2006, when 205 people became ill and five died after contracting E. coli from baby spinach.
While this has been a widespread outbreak — leading to a massive product recall — it's far from the only foodborne illness incident impacting the convenience store industry.
Nacho cheese sold at California-based Valley Oak Food and Fuel was linked to a botulism outbreak that sickened 10 people and killed one last year. And earlier this year, approximately 2,000 7-Eleven customers in West Jordan, Utah, were exposed to hepatitis A due to an infected 7-Eleven employee who worked (and handled the convenience store's food) while sick. 
America's food industry has a staggeringly expensive safety problem, costing the United States $55.5 billion annually, according to Fortune Magazine. This includes foodborne illnesses at convenience stores and restaurants, food recalls, and other food safety issues. This statistic is based on a 2015 study by Robert Scharff, an associate professor at Ohio State University, who attributed this cost to foodborne illness-related medical treatment, lost productivity and mortality in the U.S.
Each year, 48 million Americans get sick from a foodborne illness, according to the Centers for Disease Control. Foodborne illnesses are expensive and damaging for businesses. Having a foodborne illness incident or outbreak can cost significant money — including decreased revenues, hefty legal fees, lawsuits, diminished sales, lowered customer loyalty and confidence, and a damaged reputation that could permanently shut your doors. Therefore, investing in food safety is one of the smartest things that c-stores (and other foodservice organizations) can do.
I work with numerous c-store clients and advise them to:
Make food safety part of your company's culture.

Everyone — on every shift — must be trained in proper food safety protocols.

Train continuously.

Don't look at training as "one and done." Employees should be trained on food safety protocols as soon as they're hired, and should get regular training "refreshers" to keep food safety top of mind.

Utilize technological solutions.

Today's tech tools can help c-stores enhance food safety protocols, making it faster, more accurate, and more efficient to conduct inventory, auditing, training and keep food safe. Tech tools have become much more affordable and accessible.

Leverage mobile devices and apps.

Various companies are providing downloadable apps that improve the way foodservice employees conduct inspections, keep temperature logs, conduct training, manage QA forms, access food code information, and more. Now, critical food safety information can (literally) be at c-store employee's fingertips.

Keep it clean.

Be sure that your store is clean and sanitized. This means regularly and thoroughly cleaning food prep equipment (knives, cutting boards, slicer parts), as well as food surfaces that guests touch (soda nozzles, serving tongs, sneeze guards). All surfaces (floors, counters, doorknobs, restrooms, etc.) should be cleaned at regular intervals.

Conduct self-inspections.

Check all surfaces, restrooms, floors, walls, etc., to ensure cleanliness. Look for and repair cracks in tiles, walls and floors, as they could attract dirt, bacteria and pests.

Maintain proper temperatures.

Keep cold foods cold and hot foods hot. Use thermometers to check that foods are being held at proper (safe) temps.

Protect ready-to-eat food items that come in contact with guests.

Use sneeze guards over foods like hot dogs, and keep condiment dispensers covered to prevent contamination and germs.

Keep a lid on trash.

Maintain a separate space for trash receptacles, away from food prep and serving areas. Cover dumpsters to keep pests out.

Don't allow employees to work while ill.

A sick convenience store worker exposed hundreds of customers to hepatitis A. More commonly, ill employees spread norovirus — which is very contagious — by touching/preparing food and touching surfaces (like doorknobs). No matter how busy or potentially short-staffed you may be, prohibit employees from working when they are sick.
Above all else, don't get overwhelmed. The expense, time and energy necessary to implement — or elevate — your store's food safety protocols won't be overwhelming, and it's crucial to keeping your guests and your business safe.
Francine L. Shaw is president of Savvy Food Safety Inc. which offers a robust roster of services, including consulting, food safety education, food safety inspections, crisis management training, writing norovirus policies for employees, writing norovirus clean-up procedures, curriculum development, responsible alcohol service training, and more. The Savvy Food Safety team has more than 100 combined years of industry experience in restaurants, casinos and convenience stores.
Editor's note: The opinions expressed in this column are the author's and do not necessarily reflect the views of Convenience Store News.