Stewart's Shops Sales Topple $1 Billion for Sixth Straight Year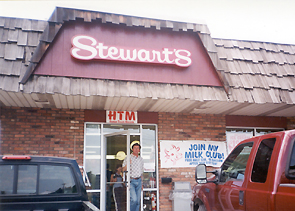 SARATOGA SPRINGS, N.Y. -- Stewart's Shops sales grew by $100 million last year -- up 4 percent from $1.3 billion in 2009 to $1.4 billion in 2010. It marked the sixth straight year the convenience retailer's sales topped $1 billion, The Saratogian reported, citing a company announcement.
"We have been fortunate to have continued to grow in these difficult times," said Gary Dake, president of the chain, with 328 stores in upstate New York and western New England.
Two new Stewart's Shops opened last year in Queensbury and Chatham, and two more shops were totally rebuilt at existing locations in Fonda and Warrensburg. "We have also had 50 major remodels in other shops, which helps us improve our standards for customer service," Dake said. "We expect to continue at the same pace in 2011."
Stewart's spokesman Tom Mailey said more new stores are slated to open this year, however the company is not yet ready to announce specific locations, he told the newspaper. "We also plan on building a replacement store at a new location in Salem," he said.
Stewart's lost several of the area farms it relies on for dairy products in 2010 -- a cause for serious concern. The vertically integrated company now gets milk from 38 farms, down from 56 three years ago. "As we've lost some farms through attrition, others have grown so it's about the same number of cows and the same amount of milk. Just fewer farms," Mailey said.
Milk and ice cream, which Stewart's was founded upon, represent about 15 percent of sales.
One of the fastest growth areas for Stewart's Shops is quick food items, the result of a "grazing" trend that sees people eating smaller, more frequent meals, the company reported.
Coffee is another high-volume product for the chain.
Stewart's has roughly 4,000 employees, with 3,500 of those in its retail shops. Another 350 work at the company's Route 9 North bottling plant and warehouse in Greenfield, and another 100 are at its corporate offices. The company's workforce is expected to grow in 2011, Dake said.
Stewart's Holiday Match charitable program had a record setting year in 2010, with customers donating $640,000. Stewart's matching funds brought the total raised to $1.28 million. Money raised is given to area not-for-profit agencies, according to the report.