Street Corner Franchise Takes to the Streets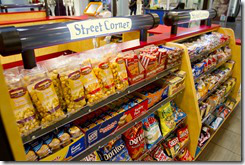 TOPEKA, Kan. -- Street Corner, the convenience store chain known for its small inline stores and mall kiosks, is now franchising small and large street-side stores. The Topeka-based company has engaged industry veteran Ed Davidson as part of a team that will build the new business segment.
"This expands Street Corner's footprint beyond the shopping mall, which until now has been our bread and butter. We're excited to literally extend the brand to the street," said Peter LaColla, CEO of Street Corner parent McColla Enterprises. "And I can't think of anyone better to guide us than Ed Davidson."
Davidson, of ER Davidson & Associates, recently retired from 7-Eleven Inc. where he held various positions during two stints -- most recently serving as a real estate manager. In all, he brings 45 years of experience in the convenience, retail and gasoline industries, having also worked for Amoco Oil and BP Amoco, and served as president of the New England Convenience Store Association.
"Ed's varied experience is a perfect fit with Street Corner as we move to street-side, especially with the goal of creating freestanding stores with fuel down the road," LaColla stated.
Davidson will consult on everything to do with the new street-side segment, with an emphasis on location selection including building from scratch and rebranding other stores.
"It's always thrilling to have the chance to launch or grow a new market for any company, and it's particularly nice to be involved with a major player such as Street Corner, whose name is synonymous with conveniences on the go," Davidson said.
The street-side locations will further broaden Street Corner's offering. Besides inline stores and kiosks, the chain has been experimenting with self-service in office buildings and other restricted settings.
Street Corner currently has 45 locations in 19 states. It was recently named one of USA Today's 50 Top Franchises for Minorities for the third consecutive year.