Strong Economy & Growing Consumer Confidence Will Boost Memorial Day Travel
Get great content like this right in your inbox.
Subscribe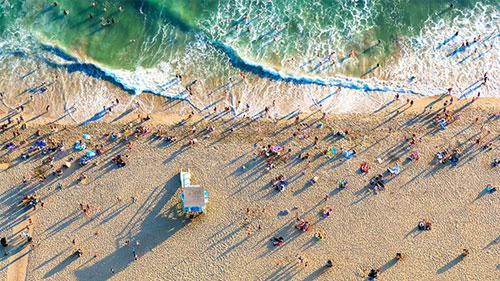 ORLANDO, Fla. — Memorial Day marks the unofficial start of summer, and Americans will kick off the season by traveling in near-record numbers.
More than 41.5 million Americans will travel this Memorial Day weekend. That's a nearly 5-percent increase over last year and the most in more than a dozen years, according to the latest report from AAA.
In conjunction with AAA, INRIX, a global transportation analytics company, expects travel delays on major roads could be up to three times longer than normal, with the busiest days being Thursday, May 24, and Friday, May 25.
"The highest gas prices since 2014 won't keep travelers home this Memorial Day weekend," said Bill Sutherland, senior vice president, AAA Travel and Publishing. "A strong economy and growing consumer confidence are giving Americans all the motivation they need to kick off what we expect to be a busy summer travel season with a Memorial Day getaway."
2018 Memorial Day Travel Forecast By the Numbers
Automobiles: The vast majority of travelers (36.6 million) will hit the road this Memorial Day, 4.7 percent more than last year.
Planes: 3.1 million people will travel by air, a 6.8-percent increase and the fifth year of consecutive air travel volume increases.
Trains, buses and cruise ships: Travel across these sectors will increase by 2.4 percent to 1.8 million passengers.
Summertime means higher gas prices, but travelers aren't letting that slow them down. Eighty-eight percent of those choosing to drive will pay the most expensive Memorial Day gas prices since 2014. However, these higher prices are not keeping holiday travelers home, with automobile travel expected to increase for the fourth straight year by nearly 5 percent over last Memorial Day.
Gas prices averaged $2.72 in April, an increase of 33 cents over last year, due to expensive crude oil, record gasoline demand and shrinking global supply, AAA reported.
Consumers' wallets will find some relief when paying for airfare and car rentals. According to AAA's Leisure Travel Index, airfares are 7 percent lower than last Memorial Day, landing at an average price of $168 for a round-trip flight along the top 40 domestic routes. At $59, the average daily cost of a car rental this Memorial Day is the lowest rate in the past four years and 11 percent cheaper than last year.
Top Memorial Day Travel Destinations
Orlando, Fla.

Seattle

Honolulu

Las Vegas

Anchorage, Alaska

Phoenix

Anaheim, Calif.

Boston

Denver

New York
Orlando again tops this year's list of the most-visited Memorial Day destinations in the U.S., based on AAA advance travel bookings. Cruises to Alaska, originating in Seattle and Anchorage, Alaska, as well as warm-weather destinations in Hawaii, Las Vegas, Phoenix and southern California top travelers' domestic itineraries this summer.
For those planning to kick off their summers with an overseas vacation, Europe is a major draw this year. Rome, Dublin and London are the most popular international travel destinations for Memorial Day weekend.
According to Hertz, a 40-year AAA partner, the busiest airport pick-up locations for travelers renting a car this Memorial Day are expected to be Orlando (MCO), Las Vegas (LAS), Atlanta (ATL), Los Angeles (LAX) and Kahului, Hawaii (OGG). The busiest day for rental pick-ups is expected to be May 25, with an average rental length of nearly six days, as travelers look to take advantage of the long holiday weekend.