Sunoco Reports Results for Third Quarter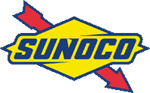 PHILADELPHIA, Pa. -- Sunoco Inc. reported net income attributable to Sunoco shareholders of $65 million ($.54 per share diluted) for the third quarter of 2010 versus a net loss attributable to Sunoco shareholders of $312 million ($2.67 per share diluted) for the third quarter of 2009.

Retail and logistics contributed income of $67 million and SunCoke Energy earned income of $33 million, while refining and supply reported a loss of $44 million.

"We were profitable on the strength of our retail, logistics, and coke operations -- areas we have targeted for future growth," Lynn L. Elsenhans, Sunoco's chairman and chief executive officer said in a released statement. "Despite posting a loss, our refining and supply segment's year-over-year improvement in financial performance reflects our continued focus on the fundamentals: margin capture, sustainably lowering our breakeven cost per barrel, and running our facilities safely and reliably. While transportation fuels will likely face continued weak demand, abundant supply, and pressured margins for the foreseeable future, our strong balance sheet and a brand and logistics led strategy that is focused on higher growth leave us well positioned going forward."