10/02/2018
Supplier Spotlights: Growth Energy, KPS Global & PDI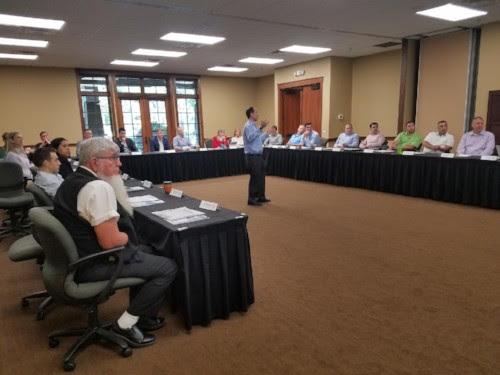 NATIONAL REPORT — While it's important for convenience store retailers to market themselves, new products, services, promotions and other initiatives by c-store suppliers are a major part of capturing consumer interest. Convenience Store News will regularly highlight such efforts in this roundup.
Here are the latest supplier spotlights:
Financial Information Technologies
Financial Information Technologies LLC, a provider of invoicing, electronic payment and analytics solutions to the beverage alcohol industry, received a strategic investment from TA Associates and Luminate Capital Partners.
The company is partnering with TA and Luminate to enhance its leadership role in the beverage alcohol market through new product innovations and strategic acquisitions, the company said.
"TA Associates is very experienced in electronic payment and financial technology markets, and we are delighted to welcome them as a new investor," said Tad Phelps, president of Fintech. "The firm has a strong track record of partnering with management to accelerate organic growth and complete strategic acquisitions. We look forward to working closely with TA and Luminate to accomplish our goals, while enhancing the value that we bring to retailers and distributors."
Growth Energy
Growth Energy welcomed the fuel industry's leading independent E15 retailers at its fourth annual Primp the Pump retreat in Brainerd, Minn. The three-day event brought attendees together to share best practices for taking on industry challenges.
The 24 attendees included: Nathaniel Dodridge from Casey's General Stores; Matt Spackman and Sam Herro from Kum & Go; Joel Hirschboeck from Kwik Trip; Lance Klatt, Steve Anderson and Joel Hennen from Minnoco; Steve Walk from Protec Fuels; AJ Siccardi and Sean MacLaurin from RaceTrac; Mike Lorenz from Sheetz; and Sarah Prorok and Chris O'Bryan from Thorntons, as well as industry representatives from ADM, Applied Predictive Technologies, Big River Resources, Growth Energy and POET.
Discussion focused largely on enabling consumer choice at the pump and why E15 is growing in sale volume when offered, according to Growth Energy.
"This ongoing collaboration with retailers ensures that we're not only continuing to expand the E15 footprint to give more Americans access to a cleaner burning fuel, but that we're also delivering the best marketing tools and practices for our partners to be successful," said Growth Energy Vice President of Market Development Mike O'Brien.
KPS Global
KPS Global launched a newly redesigned website that offers a fresh new look and cleaner design. The site also allows customers to navigate through KPS' extensive product and service offerings with increased ease.
Dedicated pages exist for each application, including a revamp of the company's aftermarket parts site.
"We are excited about the launch of our new site, especially the more intuitive, simplified navigation. Customers will still have access to the same valuable content about our products and services, but it will now be easier to find due to the streamlined navigation and content reorganization," said Sean McGrann, senior vice president of sales and marketing for KPS. "The online resources such as videos, blogs and product details will continue to be an area of investment for us to put valuable tools in our customers hands."
National Carwash Solutions
National Carwash Solutions (NCS), a provider of car wash systems, cleaning solutions and maintenance services, has formed a strategic partnership with TSS Car Wash Services, a customized car wash design solutions supplier that provides car wash consultation, LED lighting, creative design, customized signage and systems, wash package solutions and marketing services.
TSS adds considerable fire power to NCS's arsenal of bundled product and service offerings, NCS said. TSS recently tripled its footprint by moving into a new 100,000-square-foot facility to accommodate increased demand and future growth and invested into new technologies to continue to offer world-class innovation.
"We are constantly looking for the right strategic partners to join the NCS family," said Michael Gillen, CEO of NCS. "TSS is a perfect fit to our brand portfolio. We couldn't be more thrilled to partner with such an innovative company. TSS is the leading provider of customized car wash solutions, marketing products and services. TSS has made a long-term commitment to quality custom products, resulting in over 28 years of continued growth. We're very excited to join with TSS and their management team."
PDI
PDI, a global provider of enterprise software solutions to the convenience retail, wholesale petroleum, and logistics industries, hosted its its 2018 North America users conference Aug. 19-22. The largest conference to date brought together more than 800 attendees from the U.S. and Canada.
"Just like every other part of our business, our goal with this conference was to deliver the best possible value to our customers, and based on the preliminary feedback we've received, I think we succeeded," said Jimmy Frangis, CEO of PDI. "We celebrated our 35th company anniversary this past June, and our customer family has grown quite a bit just in the last two years alone. This year's conference was truly holistic, bringing together companies from all the industries we serve with a common goal of becoming better users of the software."
Reflecting its additional wholesale and logistics, loyalty marketing and fuel pricing capabilities, PDI's traditionally retail-focused conference curriculum reflected the growing and diverse customer base. In addition to the more than 110 training and networking sessions offered to attendees, PDI also shared its vision for a unified, cloud-based software portfolio during its general session update.
"This year, we really focused on building a solid foundation for success, and I think we've made excellent progress in our journey to the cloud, particularly in the areas of security services and hybrid cloud deployment," said Chris Berry, chief technology officer, PDI. "From there, we'll expand to include more capabilities. In fact, we'll have an application live on Microsoft Azure next month."
Skupos
C-store industry analytics platform Skupos Inc. closed a $6.4 million Series A round of funding led by Toba Capital with participation from Dynamo Fund, Loup Ventures and existing investors from the company's seed round on Aug. 12. The company has raised $11 million to date.
The newest funding will be used to accelerate the progression into the c-store industry, Skupos reported.
"These last two years we've seen Skupos evolve from three founders with a great idea into a brilliant team of thirty-plus with a crucial product and an exploding customer base," said Patrick Mathieson, partner at Toba Capital. "What's most remarkable is that in barely a year of selling they've built their footprint from zero to thousands of paying Skupos-powered c-stores across 43 US states. As their footprint widens, their ability to drive efficiencies for retailers, distributors, and CPG brands grows exponentially. We deeply enjoy partnering with the Skupos team as they become one of the most important companies in the retail analytics industry."
Founded in 2016, the company currently tracks and analyzes over 2 billion annual transactions in real time for over 2,000 customers, providing tools to retailers to increase revenue, while helping Fortune 500 CPG brands understand and forecast sales trends in the channel.
"Real-time inventory data fundamentally changes the game for convenience stores, distributors, and brands," said Gene Munster, managing partner at Loup Ventures. "Automated retail and last mile delivery are the future of commerce, and Skupos enables their customers to benefit from these shifts."
The Vollrath Co.
The Vollrath Co. acquired Maize, Kan.-based Carlson Products, which has more than 60 yearts of experience operating in the foodservice marketplace, expertise in anodized aluminum and state-of-the-art equipment. The purchase expands manufacturing capabilities and capacity for both the Vollrath Foodservice division and the Vollrath Manufacturing Services division.
"The addition of Carlson Products manufacturing processes will allow Vollrath to broaden the range of products and services we can offer our customers," said Vollrath President and CEO Paul Bartelt. "It's a natural fit to grow and expand our business. We welcome Carlson Products into the Vollrath family and look forward to leveraging our combined operations and resources to strengthen our commitment to our customers around the world."
The incorporation of Carlson Products will take place over the upcoming months. During the interim period, customers will receive continued support and the same product they are accustomed to from both Vollrath and Carlson Products. The Carlson Products facility will remain in operation, making it the 10th manufacturing facility for Vollrath Company and eight in the United States.
"The joining of Carlson Products with Vollrath Company will provide major benefits to our existing and future customers. Vollrath brings a level of global presence, knowledge, support and expertise that will complement and enhance our core offerings," said Austin Peterson, president of Carlson Products.