SVP John Fisher Leaving The Pantry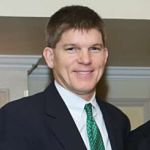 John J. Fisher
CARY, N.C. -- John J. Fisher, The Pantry Inc.'s senior vice president of retail merchandising and restaurant operations, will leave the company effective March 29, according to a regulatory filing with the Securities and Exchange Commission. No other details were given.
Fisher, who is responsible for marketing and merchandising programs at the company's Kangaroo Express convenience stores and its 250-plus restaurants, has been with The Pantry since March 2010.
He was previously executive vice president of The Linbeck Group, a privately held project and construction management firm specializing in facility design and project execution.
Prior to that, Fisher spent 11 years at The Coca-Cola Co., lastly as senior vice president of marketing for North America Foodservice. He oversaw consumer and customer marketing responsibility for the Foodservice and Hospitality Division and was responsible for strategic planning, marketing, communications and sales execution for Coca-Cola's only direct-to-consumer operating group. He also led a 185-member team.
Fisher started his career as a manufacturing engineer at Colgate Palmolive Co. and advanced through several positions, eventually transitioning into brand management. He holds a Bachelor of Science degree in mechanical engineering from the University of Notre Dame.
With Fisher's departure, The Pantry has now lost five top executives in less than two years:
Former Senior Vice President of Operations Brad Williams resigned in June 2011 and is now senior vice president of store operations for Mid-Atlantic Convenience Stores (MACS). Williams was replaced in September 2012 by new SVP of Operations Joe Venezia.
 
Former Pantry CEO and President Terry Marks stepped down in August 2011 to become CEO of restaurant chain Hooters of America LLC. After an extensive search, Marks was replaced in February 2012 by current CEO and President Dennis Hatchell.
 
Former Marketing Vice President David Henniger left in March 2012, following Marks to Hooters as its chief marketing officer.
 
Former Chief Financial Officer and Senior Vice President Mark Bierley left in May 2012 to accept a position with early education and childcare provider Learning Care Group Inc. He will be replaced by B. Clyde Preslar, who assumes the CFO post on Feb. 7.