Sweets & Snacks Expo Expected to Break Records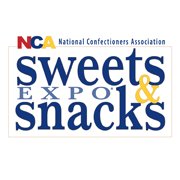 CHICAGO -- The 2013 Sweets & Snacks Expo, scheduled for May 21-23 at Chicago's McCormick Place, is poised to be the largest in the event's history, both in show floor size and number of exhibitors. Boasting 7.9-percent growth in the number of exhibitors from last year, the sold-out exhibit floor will feature 616 confectionery and snack companies.
"Welcoming over 160 new exhibitors this year, the expo has proven itself as the best place to discover the latest product innovations," noted Larry Graham, president of the Washington, D.C.-based National Confectioners Association (NCA), which hosts the annual event. "In addition, international exhibitors see the expo as a solid business decision. We are hosting more than 30 countries representing 130 global companies this year -- up 12 percent from 2012."
More than 14,000 trade professionals are expected to attend this year's show.
"We continue to evolve the event so that it offers more opportunities to discover, learn and connect -- from the all-new Industry Buzz Network Reception to success-focused keynote speakers who offer winning insights and profit-driven ideas in today's marketplace," Graham added.
Showgoers will hear from industry and category leaders, as well as business experts such as Duke University coach Mike Krzyzewski; Kantar Retail's Senior Vice President of Retail Insights Leon Nicholas; Saatchi & Saatchi Worldwide CEO Dina Howell; and Pulitzer Prize-winning author George Will.
The Sweets & Snacks Expo is now in its 17th year. For more information, visit the event's website.