Swifty Food Mart Founder Don Myers Passes Away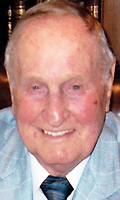 SEYMOUR, Ind. -- Swifty Oil Co. is mourning the loss of its founder Don Myers Sr. He was 92.
According to a report by the Daily Racing Form, Myers founded Swifty Oil Co. in 1963 and expanded the business from an initial base of seven gas stations to 181 stations and convenience stores in several states -- Indiana, Ohio, Kentucky, Illinois and Tennessee – under the Swifty Food Mart banner.
During his career, Myers served for six years on the advisory board of the Society of Independent Gasoline Marketers of America.
In 1972, he expanded into the thoroughbred business and founded Swifty Farms, a Seymour, Ind.-based perennial leader of racing and breeding programs. Myers, a Seymour native, was a member of both the national and Indiana chapters of the Thoroughbred Owners and Breeders Association.
Swifty Farms' most successful runners include Grade 2 winner Pass Rush and Grade 3 winner Pataky Kid. Swifty Farms is also home to the final foal of Triple Crown winner Seattle Slew, Grade 3-placed mare Maggie Slew. Her first foal, Mack the Slew, was a two-time stakes winner in 2011 for Swifty Farms.
Myers was also known for his philanthropic efforts with the Southern Indiana Center for the Arts, The Boys and Girls Club, Girls Inc., the Seymour Elks Club and the First Presbyterian Church. In addition, the Schneck Medical Center opened the Don and Dana Myers Cancer Center in 2007. That same year, the Seymour Chamber of Commerce presented its Citizen Award to Myers.
He is survived by his wife Dana Lee, four children, two stepdaughters, grandchildren and great-grandchildren.