Swisher Launches Electronic Cigarette/Cigar Line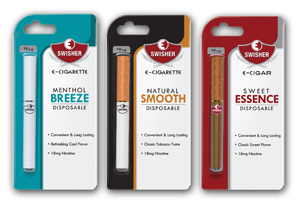 JACKSONVILLE, Fla. -- Swisher Sweets is throwing its hat into the electronic tobacco ring with a new product line: e-Swisher Electronic Cigarettes and Cigars.
The e-Swisher products will roll out in August with a limited introduction. New e-cigarettes will be available in two flavors, Natural Smooth and Cool Menthol, while the e-cigar delivers a unique Swisher Sweets taste, according to the company's announcement.
The e-cigarette will be available as disposables or a rechargeable express kit in 12-milligram and 18-milligram nicotine levels. Each one will be equivalent to about two packs of cigarettes, according to Swisher.
The entire line is assembled, tested and filled in the United States, the company noted.
Swisher Sweets is not the only tobacco products company to join the e-cigarette industry recently. Lorillard Inc., through its Lorillard Tobacco Co. subsidiary, announced in April it was acquiring blu ecigs for $135 million cash, as CSNews Online previously reported.