TA, Customers Raise Funds for Needy Drivers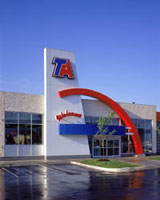 WESTLAKE, Ohio -- TravelCenters of America LLC and its customers are banding together to support truckers in need through the St. Christopher Truckers Development and Relief Fund (SCF).

Throughout October across the country, employees at TA and Petro Stopping Centers will sell Band Together silicone wristbands for $1, with 100 percent of the net proceeds going to will go help drivers in need. Customers will be asked to sign a banner in the full-service restaurant in further recognition of their commitment.

"I always want us to focus on our guests because they make our business possible. 'Band Together' is a unique way of directing our efforts to help the truckers in need," Tom O'Brien, TA president and CEO, said in a statement.

The St. Christopher Truckers Development and Relief Fund (SCF) is a 501(c)(3), not-for-profit organization that provides financial assistance to professional truck drivers who have medical problems and cannot otherwise afford healthcare. SCF also conducts health research to benefit professional drivers and the trucking industry.

TravelCenters of America LLC operates in 41 states and Canada under the TravelCenters of America and Petro brands. TA offers diesel and gasoline fueling services, full and quick-service restaurants, heavy truck maintenance services, 24-hour convenience stores, electronic communication (WiFi) and other services.