TA Technicians Score at National Competition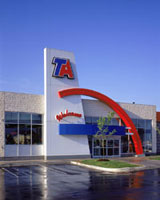 WESTLAKE, Ohio -- A TravelCenters of America LLC's technician qualified as a "SuperTech" Champion in the Trucking Maintenance Council's annual National Technician's Skill Competition held in Raleigh, N.C. recently.

That technician, Jerry Bodkins of Youngstown, Ohio, qualified under the category of Wheel End hands-on competition. The elite TMC SuperTech competition draws the best technicians nationwide from fleets, OEM dealers and independent truck maintenance service providers. More than 100 technicians qualified from preliminary state and local competitions for the national event.

In all, 12 ASE Master technicians from the company's TA and Petro:Lube truck service centers qualified to compete. All of those technicians passed the written qualifier test putting them into the hands-on competition. TA and Petro were the only travel center brands represented in this competition, reflecting on the significant investment in technical training the company makes to provide its customers with top maintenance and light repair work. The TMC is one of five professional advisory councils of the American Trucking Association. This is the fourth consecutive year that TravelCenters of America has had one or more of its technicians win a "SuperTech" Championship.

TA and Petro:Lube technicians are further distinguished by the more than 1,500 Automotive Service Excellence (ASE) certifications they have qualified for as a combined repair network.

Together, TA and Petro:Lube brands have more than 230 locations, nearly 1,000 repair bays and over 2,400 technicians nationwide.