Technomic: Consumers Want Healthier Food Options at C-stores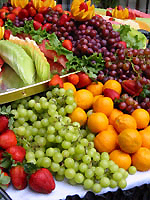 CHICAGO -- A new report from foodservice consultant Technomic found only 28 percent of consumers think convenience stores do well at offering healthy options, but 52 percent would like to see more healthy food items there, and 47 percent would like to see a wider variety of healthy beverages, according to the Convenience Store Foodservice Consumer Trend Report by Technomic.

"Today, major convenience chains are actively developing healthier, higher-quality food offerings in order to benefit from trade-down restaurant spending and to compete more effectively with limited-service restaurants," Darren Tristano, executive vice president at Technomic, said in a released statement.

Other findings include:
• Nearly two-thirds of consumers (63 percent) say they visit a c-store at least once a week, but only about half (53 percent) purchase food or a beverage.
• C-stores strongest competitors for food purchases are fast-food restaurants. Nearly half of consumers (49 percent) said fast-food restaurants were their alternative for breakfast, 47 percent for lunch and 32 percent for dinner.
• Consumers found made-to-order offerings highly appealing, especially sandwiches (57 percent), salads (50 percent), beverages (48 percent) and hot foods (46 percent).

The Convenience Store Foodservice Consumer Trend Report provides analysis of consumer purchase behavior, attitudes and preferences of more than 1,500 U.S. consumers surveyed in July 2010. Menu and concept trends at leading chains are analyzed using Technomic's exclusive MenuMonitor database. Appendices include consumer demographics and concept and menu profiles of 15 innovative and emerging chains.