Tedeschi Food Shops Remodels Three More Sites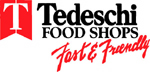 ROCKLAND, Mass. -- Tedeschi Food Shops recently completed the remodeling of three of its stores located in Leominster. The company has plans to update all of its sites, and now with the three stores, it brings the total of remodeled locations to sixteen for the year.
The three locations will now offer a wide variety of fresh, healthy food options such as TD's Deli crisp salads, wraps and sandwiches, the company stated. Each location will also carry hot and iced Green Mountain coffee and other Tedeschi Select products.
According to the company release, a sampling event will take place at each Leominster store on Friday, Dec. 17 from noon-2 p.m. Customers will be treated to TD's deli sandwiches, Lay's potato chips, Edy's ice cream and Green Mountain coffee. In addition to the event, Tedeschi will run a customer appreciation sale through Sunday, Dec. 26.
Tedeschi Food Shops Inc. operates 189 convenience stores throughout Massachusetts, New Hampshire, Rhode Island and Connecticut.