Tedeschi Scores With New Ballpark Sausage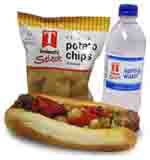 ROCKLAND, Mass. -- Tedeschi Food Shops Inc., the New England-based convenience store chain, introduced a new sausage sub to commemorate the 100th anniversary of Boston's beloved Fenway Park. This hearty sandwich is covered with freshly roasted green and red peppers, as well as onions.
"This is only the beginning of many exciting seasonally and locally relevant sandwiches at Tedeschi Food Shops," said Director of Fresh Foods Bob Goodwin.
Established in 1923 in Rockland, Mass., Tedeschi Food Shops is a family-owned and -operated c-store chain, with more than $600 million in annual revenue. The company operates 190 locations throughout Massachusetts, New Hampshire and Rhode Island. It provides customers with a family of quality proprietary brands, including TD's Deli, Tedeschi Fresh Foods, Tedeschi Select and Tedeschi Fuel.