Thorntons Adds E-85 to 36 Locations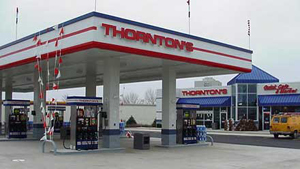 LOUISVILLE, Ky. -- Thorntons is now offering E-85 Flex Fuel in 36 store locations -- seven in Illinois, 11 in Indiana, 11 in Kentucky and seven in Tennessee, the company reported.
"We are very excited about the expansion of E-85 fuel in our stores," Matt Thornton, President and Chief Executive Officer of Thorntons said in a released statement. "We support the use of ethanol, wherever it is economically available." E-85 is an alcohol-based fuel, comprised of 15 percent petroleum.
Ethanol can be made from virtually any agriculture feedstock that starch is derived, such as sugar cane, wheat or milo.