Thorntons Pledges $1M to Park Development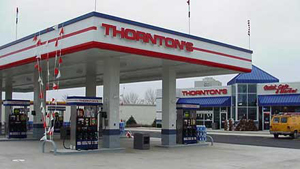 LOUISVILLE, Ky. -- Thorntons has furthered its community involvement with a $1-million donation to help preserve and renovate the Parklands of Floyds Fork.

With the pledge, the locally based and owned company teams with 21st Century Parks, a nonprofit organization that creates new parks in the city. The Parklands at Floyds Fork is a nearly 4,000-acre public parks system under development along the Floyds Fork watershed in eastern and southeastern Louisville. When complete, the project will consist of four parks connected by a park drive, urban trail system and a water trail.

"We believe in supporting the communities that we serve, and wanted to help the city of Louisville provide a clean and safe environment for future generations," Matt Thornton, president and CEO of Thorntons said in a statement.

The Parkland at Floyds Fork will feature a 23-acre great lawn, half-mile tree promenade, community center, education and interpretive center, picnic pavilions and scenic overlooks, according to a Thorntons release. The master plan preserves 80 percent of the land in natural habitat. Major construction on the Parklands at Floyds Fork is slated to begin next spring, with an eye toward a 2015 completion.

"We are thrilled by Thorntons' generous support and look forward to bringing in a new world-class park system to Louisville with their help," added Dan Jones, chairman and CEO of 21st Century Parks.