09/04/2018
Thorntons Sees Benefits From New Paytronix & Koupon Media Partnership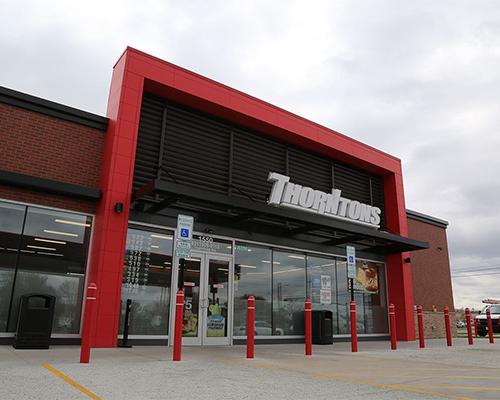 LOUISVILLE, Ky. — Thorntons Inc. is boosting its loyalty program through a new partnership between Koupon Media, a mobile offer platform and promotion network for small format retail, and Paytronix, a provider of reward program solutions.
Convenience stores that use Paytronix technology can now enhance their rewards program by leveraging Koupon's mobile offer capabilities and incorporating its database of consumer packaged goods (CPG) funded offers, the companies stated.
"Adding Koupon's CPG mobile offers to the marketing mix presents an incredible opportunity for retailers to attract new shoppers and convert them to lifelong engagement," said Joel Fontenot, executive chairman of Koupon. "We are excited to work with the Paytronix team as they bring proven customer engagement and loyalty solutions to the industry. Through the partnership, retailers have yet another mechanism to acquire new shoppers and boost repeat visits."
Koupon's offer platform technology includes personalized, redeemable offers to customers outside the loyalty program through paid media, social media, SMS, and digital signage. This enables brands to connect the sales funnel between acquisition and retention marketing, finding more customers and keeping them over a longer period, according to the companies.
"Combining Koupon's mobile offer capabilities and content with Paytronix's powerful loyalty engine has changed the game for our marketing efforts," said James Meara, senior manager of loyalty at Thorntons. "Koupon's mobile offer content and capabilities not only help us boost member acquisition, but also ensure we're delivering ongoing value to shoppers who join our program."
The partnership between Paytronix and Koupon was driven by the intense level of competition in the c-store space.
"Marketers need to focus on understanding their customer — Where are they coming from? What are they buying? What compels a visit to the pump and a visit to the store? — That insight includes bringing an unknown person to a known person," says Fontenot. "Connecting Koupon with Paytronix is a step toward solving that challenge for retailers."
Louisville-based Thorntons operates 192 convenience stores in Kentucky, Illinois, Indiana, Ohio, Tennessee and Florida.