Thorntons to Sell E-85 for 85 Cents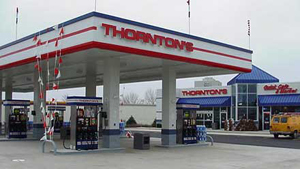 LOUISVILLE, Ky. -- Thorntons will hold a Black Friday special selling E-85 flex fuel for 85 cents per gallon, from 7 a.m. to 3 p.m. at select locations in Kentucky and Indiana, the company reported.

"We are very excited about the expansion of E-85 fuel in our stores and are promoting its availability to raise consumer awareness on savings, as well as educating consumers on protecting our environment," said Matt Thornton, Chief Executive Officer of Thorntons. "We support the use of ethanol, wherever it is economically available".

E-85 as an alternative fuel has experienced tremendous growth in the last ten years, primarily due to the fuel's many benefits as a renewable fuel that helps create a cleaner environment, boosts the U.S. economy and reduces oil imports, the company stated.