The Top Five Trends Spotted at Sweets & Snacks Expo 2018
Get great content like this right in your inbox.
Subscribe
CHICAGO — The National Confectioners Association's (NCA) 2018 Sweets & Snacks Expo wrapped up last week, but not before unwrapping the latest trends, flavors, products and innovations in both candy and snacks.
Here are the top five trends that caught Convenience Store News editors' attention on the show floor:
1. Competing With National Brands
Some candy and snack manufacturers are promising to bring consumers clean, simple and better-tasting alternatives to national brands that they say offer products made with added sugars, unnecessary dyes, and unhealthy methods of processing.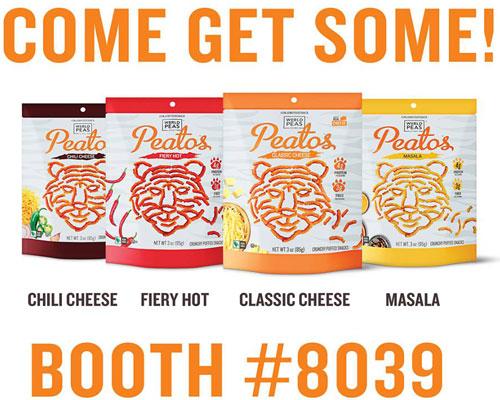 World Pea Peatos is just one example of a brand seeking to revolutionize the way people view salty "junk food" snacks, according to the company.
Peatos Crunchy Pulse Snacks use innovative production techniques and pulses — made from nutrient-packed, dry, edible seeds of beans, lentils, chickpeas and peas — to bring full flavor and nutrition to its snacks. Touted as the "healthier version of Cheetos," Peatos Classic Cheese flavored snacks contain 4 grams of protein and 3 grams of fiber, are made without synthetic colors and artificial flavors, and are non-GMO. Four varieties are available: Classic Cheese, Fiery Hot, Chili Cheese and Masala.
In meat snacks, there's a new contender in Stryve Foods LLC's Biltong brand, whose offerings include slow-baked bites, sticks and Biltong (sliced beef strips). Targeting consumers who incorporate fitness into their lifestyles, Biltong is gluten-free, all-natural and made without additives, MSG or nitrates. One bag of Biltong contains as much as 36 grams of protein, Paige Brown, director of marketing for Stryve, told CSNews.
2. Chocolate Claims Its Stake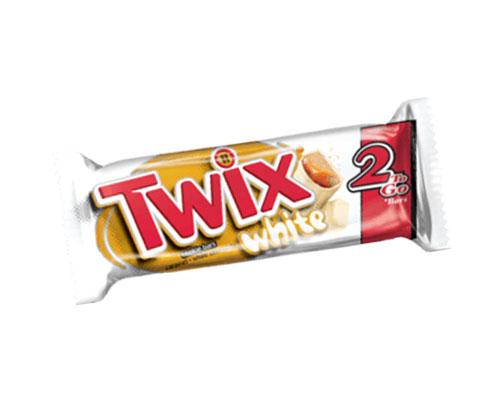 It's no surprise at a candy and snacks show that chocolate would have a significant presence, from bars, to being cascaded over popcorn, to being featured as part of snack mixes.
Mars Wrigley Confectionery unveiled a Sweet & Salty Mix for both the M&M'S and Snickers brands, alongside Milky Way Fudge.
White chocolate will also remain a focus for the confectionery and snack company, Jim Dodge, vice president of convenience for Mars Wrigley Confectionery, informed CSNews. TWIX White launched at this year's expo in finger-long packaging. It is the No. 2 confectionery product in convenience, Dodge cited.
Ruby chocolate also made a name for itself at the 2018 Sweets & Snacks Expo thanks to being awarded the inaugural namesake Ruby Award for Supplier Innovation as part of the Most Innovative New Product Awards. Barry Callebaut A.G. USA LLC's Ruby chocolate is made from the Ruby cocoa bean and, through a unique process, unlocks the flavor and color tone naturally present. No berries, berry flavor or color is added. It is the fourth flavor in the Barry Callebaut line of chocolates, which also includes White, Dark and Milk varieties.
The Hershey Co., meanwhile, continues to strike gold by focusing on the growth of its core brands. This year, Kit Kat Snack Mix joins the company's expansive portfolio and is the latest product in its "snackfections" line, which combines sweet and salty elements.
Hershey also continues to build on the momentum of two products: Hershey's Cookie Layer Crunch Bars and Hershey's Gold Standard Bar. As part of a Cookie Layer Crunch extension, Waffle Crunch will make its debut later this year, while the Gold Standard Bar — which came on the scene last year — was awarded this year's Most Innovative New Product in the expo's Chocolate category.
3. Movement in Non-Chocolate Chewy
Non-chocolate chewy is currently the "largest growth bubble" in confections and the fastest-growing category in convenience, Tracy Nappier, spokesperson for Spanish confectioner Fini, told CSNews editors.
This growth is being driven by new product introductions that speak to millennials and Gen Zers with innovative shapes and natural flavors, like Fini Kollisions and Fini Shock Tongues. The latter product, which has gained popularity in Europe, is currently the No. 1 U.S. item for the company, according to Napier. Fini also recently launched a line of gluten-free licorice.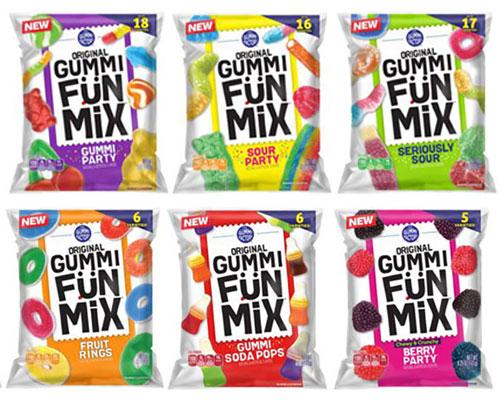 Another player in non-chocolate chewy, Promotion in Motion, introduced a new Original Gummi FunMix product line. Available in six options — Gummi Party, Sour Party, Gummi Soda Pops, Fruit Rings, Berry Party and Seriously Sour — the multi-flavor packs feature mixes of gummies, sour gummies and other confections in fun shapes, flavors and colors. Five-ounce peg bags are available for a suggested retail price of $1.49-$1.99, and 10-ounce stand-up bags for $2.99.
Other players in the field include Bazooka Candy Brands and Perfetti Van Melle USA Inc. Bazooka is doubling down on gummy line extensions with RingPop Gummy Gems, which are shaped to resemble the jewels on the wearable pops and feature four flavor combinations, and Gummy Blast as part of its Baby Bottle Pop line. Gummy Blast features baby bottle-shaped gummies and strawberry fizzing powder.
On the Perfetti side, the company continues to build on the Airheads brand with the rollout of Airhead Gummies. These chewy candies are shaped to resemble the brand's balloon mascot. They come in six classic Airheads flavors.
4. Still Space For Jerky
Jerky has been building momentum over the last few years and it isn't slowing down.
Country Archer Jerky Co. showcased an expanded portfolio, which now includes collagen-crafted meat bars. The bars tout real ingredients like grass-fed beef, and a complex amino acid profile from collagen, dates and spices for a satisfying pre- or post-workout snack, according to the company. Three flavor profiles are available: Cayenne Beef, Herb Citrus Turkey and Sweet Barbeque Pork. The company also unveiled its latest jerky flavors with Hatch Chili Beef and Rosemary Turkey.
Meat snack powerhouse Jack Link's continues to innovate by breaking into the refrigerated space with its new Cold Crafted line, which pairs meat and real Wisconsin cheese. The packaged item doesn't have added sugars and features only 1-2 grams of carbs and 100 percent beef. The product is meant as an alternative to sandwiches, CSNews learned from a company executive.
The Lorissa's Kitchen brand from Jack Link's is also adding to its portfolio with an Original flavor, a consumer-requested variety, and the release of preservative-free Steak Strips. 
5. Balls of Energy
Portable and popable, energy balls are becoming known as a popular alternative to energy bars, CSNews editors spotted. 
Enjoy Life, a subsidiary of Mondelez International Inc., is expanding its allergen-free Protein Bites line with dark raspberry and chocolate banana varieties. Protein Bites have been reformulated without palm oil and are now offered in a five-bite pack for the front-end.
Additionally, the aptly named Protein Ball Co., based in the United Kingdom, showcased its line of all-natural, high-protein snacks. Of its eight varieties, each is made from consumers' choice of one of three protein sources: whey, egg whites or vegan. 
Another brand, Bounce, similarly promises a product that is GMO- and gluten-free, vegetarian and provides anywhere from 8 to 13 grams of protein.
The 2018 Sweets & Snacks Expo, hosted by the National Confectioners Association, was held at Chicago's McCormick Place West May 22-24.