Tornado-Damaged Kangaroo Express Store Hops Back to Life
RINGGOLD, Ga. -- Parts of the South were devastated this past spring when tornadoes roared across that region of country. Residents and businesses have spent nearly eight months reclaiming what Mother Nature destroyed, and that included the Kangaroo Express store here.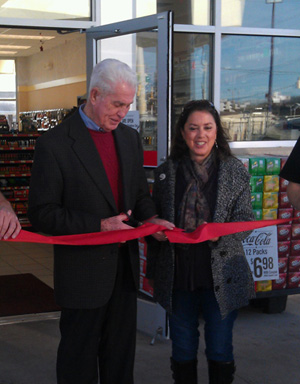 After suffering extensive damage from a tornado in April, the convenience store at 5337 Alabama Highway is open for business once again. Kangaroo Express, and its parent company The Pantry Inc., marked the comeback with a grand re-opening ceremony yesterday.
The Pantry completely rebuilt the store and gas pumps. The new store features the company's Fresh Initiative, including wider aisles, a broader selection of pastries, warm breakfast sandwiches, fresh fruit and fountain beverages. In addition, the Kangaroo Express sports a serving station with Bean Street Coffee, upgraded cups and a variety of coffee flavorings. Fresh sandwiches and salads are also available for on-the-go lunch or dinner.
During the rebuilding process, the company added energy-efficient lighting, including LED lighting outside the store. Inside, a reduced number of low-wattage light bulbs with white reflectors provide a greater amount of light with less energy. LED lighting will also be installed in the fuel canopies once they are completed, the company said.