TravelCenters of America Customers Donate to St. Christopher Fund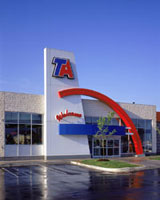 WESTLAKE, Ohio - TravelCenters of America customers made donations of approximately $3,300 to St. Christopher Truckers Development and Relief Fund (SCF). Donations were accepted at the TravelCenters of America (TA) booth inside the Mid-America Trucking Show (MATS) in Louisville, Ky.
TA dedicated a large section of its show booth to SCF, a not-for-profit organization that provides assistance to professional truck drivers whose medical problems have led to financial hardship. Donations of all amounts were accepted from attendees who wanted their chance to win prizes ranging from pens and money clips, to free lunch and steak dinner certificates at TA and Petro full service restaurants. Every player received a prize.
"We were so happy to see the huge number of hard working drivers once again show their support of other drivers in need," said Tom O'Brien, president and CEO of TravelCenters of America. "We are proud to continue to deepen our partnership with SCF, which has been supporting drivers since it was founded in 2007."
Late last year, TA and Petro employees and customers donated nearly $215,000 during a month-long fundraising drive called "Band Together." It was the largest single donation SCF had ever received and helped the organization provide assistance to 330 drivers and their families in 2010.
"This was our most successful fund-raising event at MATS," said Dr. Donna Kennedy, executive director, SCF. "We are very thankful to TA and Petro for coordinating the event and supplying the prizes."