TravelCenters of America Cuts Ribbon on 222nd Site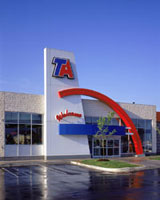 WESTLAKE, Ohio -- TravelCenters of America LLC has opened a new TA Truck Service Center in Pioneer, Tenn. The latest maintenance and repair center brings the number of sites under the TA Truck Service and Petro Lube name to 222.
The facility, located off Interstate 75, features five service bays. It will be managed by Jim Parsley and the staff includes 10 trained technicians, six truck service advisors and an assistant manager. The TA Pioneer Truck Service Center is also part of the RoadSquad roadside service program.
"Last month we opened a company-owned truck service location in Morris, Ill. We are thrilled to continue to add to our industry leading truck service and maintenance business with this newest location in Pioneer, Tenn., which provides coverage on an important stretch of Interstate 75, and to expand our relationship with an existing franchisee," said Ara Bagdasarian, executive vice president of TravelCenters of America truck service business.
Previous to the Pioneer opening, TA had seven locations in Tennessee. TA Truck Service centers provide a wide range of services, including preventive maintenance and lubrication services; brake and clutch adjustments; refrigerated truck maintenance; alternator, water pump and axle wheel seal installation; tire services, alignments and annual safety inspections and are CSA ready.