TravelCenters of America, Englefield Oil Present Grants to Charity
WESTLAKE and HEATH, Ohio -- TravelCenters of America LLC (TA) presented a $30,000 check to The St. Christopher Truckers Development & Relief Fund (SCF) through BP's Fueling Communities program, the Westlake, Ohio-based company announced.
SCF provides financial support to professional drivers to help them pay for prescription medications, living expenses, and medical procedures. It also provides assistance with lowering medical bill payments. TA, which is a BP branded marketer, nominated SCF for the program, which provides grants to worthy local organizations that support the communities in which BP does business.
"We're very grateful to BP for creating the Fueling Communities program, as it gave us yet another opportunity to play a part in funding programs that help the truck driver community," said Thomas O'Brien, president and CEO of TA. "We know this money will be put to good use to help truck drivers who suffer from financial hardship due to medical problems."
Dr. Donna Kennedy, managing director of the St. Christopher Fund, added: "We are thrilled to accept this donation from the BP Fueling Communities program and appreciate very much the nomination by TA. Our relationship with TA and Petro has enabled us to assist more than 350 drivers since April. This check will allow us to help even more going forward."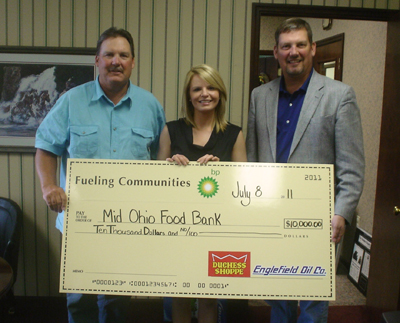 Heath, Ohio-based Englefield Oil Co. also presented a BP Fueling Communities grant for $10,000 to the Mid-Ohio Foodbank, according to company presidents Bill and Ben Englefield. The Foodbank partners with more than 520 nonprofit agencies to provide meals to individuals. It served more than 250,000 meals in 2010 and operates in 20 Ohio counties.
Englefield Oil owns and operates 126 locations in Ohio and West Virginia.