TravelCenters of America Launches UltraOne Rewards Program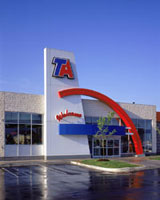 WESTLAKE, Ohio -- TravelCenters of America LLC (TA) launched its new UltraOne Rewards card for the professional expediter driver segment. The card allows expediters to earn and redeem points at nearly 230 TA- and Petro Stopping Centers-branded sites for maximum ability to earn benefits.

The UltraOne reward program offers non-expiring points for all members; a year-end points savings bonus; extended shower benefits up to 10 days; better shower benefits for expediter vans and small trucks; free meals and beverages; and free parking vouchers at preferred parking locations, the company said in a statement.

"We designed UltraOne around very frank and open discussions with our customers," said Tom O'Brien, TA's president and CEO. "They had a significant imprint on the design, and as a result, UltraOne provides drivers with more ways to earn, save, and be rewarded for their loyalty to both of our premier full service brands."

The travel center operator also unveiled an enhanced web-mapping program that allows visitors to its TA and Petro web sites to automatically download the company's location information onto their Garmin, Magellan and TomTom GPS devices.

Motorists of all types will find it easier to locate TA and Petro locations, the company said in a statement. Easy to follow download instructions specific for each manufacturer's GPS device can be found on each brand's Web site.

TravelCenters of operates in 41 states and Canada.