TravelCenters of America Sees Improved Q2 Results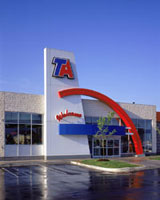 WESTLAKE, Ohio -- TravelCenters of America's (TA) net income for the second quarter 2010 improved $16.2 million, from a net loss of $15 million for the 2009 second quarter to net income of $1.2 million.

However, the company's EBITDAR (earnings before interest, taxes, depreciation, amortization, and rent costs) increased $18.9 million for the quarter, ended June 30, 2010.

At the end of the quarter, TA's business included 229 sites, 166 of which were operated under the "TravelCenters of America" or "TA" brand names and 63 of which were operated under the "Petro" brand name.

Revenues for the three months were $1.5 million, up from nearly $1.13 million.

The company credited its fuel margin per gallon in the quarter for much of its improvement. " Fuel gross margins per gallon tend to be lower during periods of rising fuel prices and higher during periods of falling fuel prices," the company said in a statement. "Although they were at a higher level than in the 2009 second quarter, fuel commodity prices trended lower throughout the second quarter of 2010. As a result, TA's fuel gross margin per gallon increased as compared to the prior year when fuel commodity prices were rising and, combined with an increase in fuel sales volumes, resulted in total fuel gross margin that was $15.5 million higher in the second quarter of 2010 than the second quarter of 2009."

During the second quarter of 2010, TA experienced a 7.1-percent increase in same-site fuel sales volume when compared with the second quarter of 2009. Similarly, during the first half of 2010, TA's same-site fuel volumes increased 8.1 percent compared with the first half of 2009. These increases resulted from a combination of TA's marketing and customer service initiatives and increased trucking activity attributable to increased economic activity in the United States, the company said.

Nonfuel sales for the 2010 second quarter and first half increased from the comparable periods last year largely due to an increased number of customers, a result of increased trucking activity. TA's nonfuel gross margin as a percentage of nonfuel revenues on a same-site basis increased from the prior year as a result of a shift in sales mix to relatively higher margin products and services, a reduced level of sales price discounting and lower purchase prices for certain nonfuel items.

Additionally, operating expenses decreased as a percentage of nonfuel sales on a same-site basis because certain TA expenses are fixed in nature, so increases in its revenues do not result in corresponding increases in its operating expenses.

During the six months ended June 30, 2010, TA invested $15.8 million in capital projects and received $3.5 million of funding from its principal landlord, Hospitality Properties Trust (HPT), pursuant to the tenant improvements allowance afforded TA under its lease with HPT with no corresponding increase in rent. TA's current capital plan for 2010 anticipates expenditures of approximately $63 million, some of which may be funded by HPT under TA's lease agreements.

At June 30, 2010, TA had approximately $170 million in cash and cash equivalents. TA also maintains a $100 million revolving secured bank credit facility. At June 30, 2010, no amounts were outstanding under this facility; however $63.2 million of the facility was used to support letters of credit issued in the ordinary course of TA's business.

Pursuant to an arrangement with HPT, TA has the option to defer up to $5 million of rent for each month during 2010. TA has taken all deferrals available to date and at June 30, 2010, the total amount of deferred rent payable to HPT was $120 million. Any deferred rent and interest not previously paid are due on July 1, 2011.

In light of the recent and current economic, industry and global credit market conditions and TA's historical operating losses, the availability and terms of any credit TA may be able to obtain are uncertain, which may limit the availability of TA's sources of financing and affect TA's ability to repay deferred rent due by that date.