TravelCenters of America Technicians Score Big at Florida Competition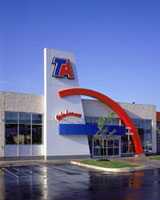 WESTLAKE, Ohio -- Two TravelCenters of America LLC (TA) technicians qualified as "SuperTechs" at the Florida Trucking Association's first-ever Technician's Skill Competition held in Orlando earlier this month.

Ron Paxson of the Wildwood, Fla. TA location qualified as a SuperTech by placing first in the brakes category; Brian Shafer of the Tampa, Fla. site placed first in the tire and wheel category. The SuperTech competition drew technicians from around Florida including those from TA, Petro, truck dealers and independent truck maintenance service providers.

"Four of our technicians from our Florida locations competed in this event. Winning two categories is a testament to the high quality and level of service and professionalism that professional drivers come to expect from TA and Petro:Lube," said Ara Bagdasarian, executive vice president of the company's truck service business. "TA and Petro were the only travel center brands represented in this competition, reflecting the significant investment in technical training we make to provide our customers top maintenance and repair work on their vehicles. We continue to illustrate the high skill level our technicians have to take care of our customers' maintenance and service needs."

TravelCenters of America operates in 41 states and Canada under the TravelCenters of America and Petro Stopping Center brands.