Twice Daily to Launch Reduced Emissions Fuel Program
Get great content like this right in your inbox.
Subscribe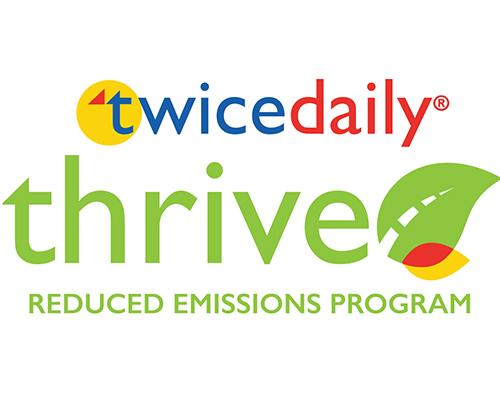 NASHVILLE, Tenn. — Tri Star Energy LLC, parent company of Twice Daily Convenience Stores, is partnering with GreenPrint LLC, the Arbor Day Foundation and GROW Enrichment to offer the reduced emissions program Thrive.
The sustainability program, which is dedicated to reducing emissions while giving back to the middle Tennessee community, will launch in April at all Twice Daily locations.
Drivers in the region will be able to reduce their carbon footprint and lessen their impact on the environment by refueling at a Twice Daily gas station. The program reduces consumers' tailpipe emissions on all grades at the pump through certified carbon investment projects such as tree plantings, renewable energy development and more.
GreenPrint's program does not require new hardware, software, tanks or equipment, according to the company.
"With our Twice Daily stores being locally owned and operated, we're focused on our communities and how best to support and give back to them," said Tri Star Energy CEO Steve Hostetter. "It's important that we continue to support initiatives that are important to our guests and our communities and 'Thrive' with GreenPrint will help us do that."
In addition to the carbon offsets, the Thrive program will plant 25,000 trees in middle Tennessee with the Arbor Day Foundation on behalf of Tri Star Energy and its Twice Daily Stores.
The program has also partnered with Nashville-based GROW Enrichment, a nonprofit organization focused on community development through urban agriculture and nature conservation education. The organizations will work together to plant trees and participate in volunteer and education projects in the Nashville community.
Nashville-based Tri Star operates 50 Twice Daily c-stores in Tennessee and Kentucky.