Update: Couche-Tard Boosts Casey's Bid
Get great content like this right in your inbox.
Subscribe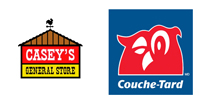 LAVAL, Quebec -- Alimentation Couche-Tard Inc. sweetened its bid in its hostile takeover attempt of Casey's General Stores Inc., upping its tender offer to shareholders to $36.75 per share in cash, an increase of 75 cents per share.

The revised transaction has a total enterprise value of approximately $1.9 billion on a fully diluted basis, including net debt of Ankeny, Iowa-based Casey's of approximately $28 million, the Canadian convenience store retailer stated.

"We continue to firmly believe that a combination of Couche-Tard and Casey's is in the best interests of the shareholders and other constituencies of both Casey's and Couche-Tard," Alain Bouchard, president and CEO of Couche-Tard, said in a statement. "Our increased $36.75 per share cash offer is well above the value that Casey's, on its own and in any reasonable timeframe, could deliver to its shareholders and allows the shareholders of Casey's to receive a significant cash premium for their investment."

Responding to the offer, Casey's General advised its shareholders to not take action. Its board will review the revised tender offer and make a recommendation to shareholders in due course, the company said in a statement.

On June 8, Casey's board rejected Couche-Tard's $36 per share tender offer, and recommended shareholders not tender their shares.

Couche-Tard's new all-cash offer represents a 26 percent premium over the one-year average closing share price of Casey's as of April 8, 2010, a 20 percent premium over the 90-calendar day average closing share price of Casey's as of that date, and a 16 percent premium over the closing price of $31.59 per share of Casey's on April 8, 2010.

The offer implies a last 12 months (as of April 30, 2010) EBITDA multiple of 7.2 times and a price of $1.25 million per store, according to the company, which noted in a statement this compares favorably to corresponding metrics of publicly traded companies and precedent transactions in the convenience store industry.

Karen Short, analyst at BMO Capital Markets, told The Wall Street Journal Couche-Tard's extension indicates the company is still interested in acquiring Casey's, but she predicted a higher bid will be needed to begin negotiations, especially with only 19 percent of Casey's shareholders tendering.

"Couche-Tard has zero control," she said in the report, adding Casey's isn't "overly obligated" to do anything given the low support for the bid.

While Couche-Tard's bid is a fair value today, Casey's owns its real estate, has no debt, and is a growth company, which is worth something to any suitor, she said. However, it's hard for Couche-Tard to raise its offer without getting more information, she told the paper.

Martin Landry, analyst at Desjardins Securities, said in a report cited by the Journal that he wouldn't be surprised to see Couche-Tard raise its bid to gain additional support, but noted "the low number of shares tendered implies that both parties are still a long way from a transaction."

Even if Couche-Tard pays $39 a share, the acquisition could add 27 cents a share to earnings, assuming annual cost synergies of $60 million, he noted.

"This enhanced all-cash offer reflects our discussions with the shareholders of Casey's and demonstrates our commitment to this transaction and confidence in our ability to consummate it in a timely manner," added Bouchard. "Despite the fact that Casey's board and management team has thus far refused to negotiate with Couche-Tard, not allowed us to conduct any due diligence and taken actions to impede our premium offer, including commencing costly and meritless litigation against Couche-Tard and putting in place lucrative golden parachute arrangements for Casey's executives, we and our advisors stand ready to negotiate with Casey's and its advisors a mutually acceptable agreement. Now is the time to put our two great companies together."

Annual Meeting Action The Canadian company also expects to file preliminary proxy materials with the Securities and Exchange Commission (SEC), related to its plan to nominate a slate of nine independent candidates for election to the board of directors of Casey's, as well as for a proposal for shareholder action, both to take place at the 2010 annual meeting of shareholders of Casey's. While the annual meeting of shareholders of Casey's has not yet been scheduled, it is typically held in September, Couche-Tard noted.

In addition, Couche-Tard will seeks to repeal any of Casey's new by-laws or amendments adopted by the board without shareholder approval, dated after June 10, 2009, which is the date of the last publicly disclosed amendment to the by-laws.

Bouchard added: "We are confident our director nominees will bring independent oversight and accountability to the Casey's board. We encourage Casey's shareholders to send a clear and strong message to the Casey's board that they want directors who will act in their best interests."

Couche-Tard's tender offer is scheduled to expire at 5 p.m. EST, Friday, Aug. 6, 2010, unless further extended.

Credit Suisse Securities (USA) LLC is acting as financial advisor to Couche-Tard and dealer manager for Couche-Tard's offer. Dewey & LeBoeuf LLP and Nyemaster, Goode, West, Hansell & O'Brien, P.C. are acting as legal counsel. Innisfree M&A Incorporated is acting as information agent for Couche-Tard's offer and proxy solicitor in connection with Couche-Tard's solicitation of proxies at the 2010 annual meeting of shareholders of Casey's.

Goldman, Sachs & Co. is acting as financial advisor to Casey's, and Cravath, Swaine & Moore LLP and Ahlers & Cooney, PC are providing legal advice.