U.S. Gasoline Retails Drop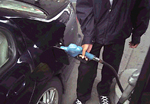 NEW YORK -- The average price of regular gasoline at U.S. filling stations fell to $2.7259 a gallon, according to the Lundberg Survey, as crude oil prices declined and supplies of the motor fuel rose, Bloomberg News reported.

Gasoline retails dropped 3.88 cents in the last two weeks, according to a survey of 2,500 filling stations nationwide by gasoline analyst Trilby Lundberg. In the same period, ending July 9, crude oil fell 3.5 percent and gasoline fell 4.5 percent.

"On the supply side we're flush," Lundberg told Bloomberg News. "Demand is anemic. If crude prices stay between $70 and $80 and if there's no surge in employment, I expect price changes will not be dramatic in the next few weeks."

Oil prices haven't settled below $70 since May 25 or above $80 since May 4, according to the news organization.

Supplies of gasoline rose to a six-week high in the week that ended July 2, the Energy Department reported. Inventories increased 1.32 million barrels to 219.4 million, the largest gain in 11 weeks.

Gasoline demand, measured by what refiners and blenders supply to wholesalers, fell 0.1 percent to an average 9.45 million barrels a day. Measured on a four-week average, demand was up 2 percent from a year ago.

MasterCard Inc. reported U.S. gasoline demand at the pump in the week ended July 2 jumped to a five-week high as drivers filled their tanks for the Independence Day holiday weekend. Measured on a four-week average, fuel consumption slipped 1.7 percent below a year earlier.

The highest average price was found in San Francisco at $3.16 a gallon. The cheapest place to buy gasoline was Jackson, Miss., where a gallon averaged $2.43, Lundberg told Bloomberg News.