U.S. Police Group Backs Couche-Tard Bid for Casey's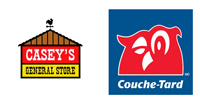 OKLAHOMA CITY, Okla. -- Alimentation Couche-Tard Inc. won the backing of a group of U.S. police officers in its battle to take over Casey's General Stores, the Montreal Gazette reported.

The Oklahoma Law Enforcement Retirement System -- a longtime Casey's investor with 7,000 shares -- filed a lawsuit against Casey's Chief Executive Robert Myers and the seven other members of the company's board of directors, criticizing them for failing to entertain talks with Couche-Tard and for implementing a series of extreme "defensive measures" designed to thwart a takeover. The suit asks the court to order Casey's to nix the measures, and start a fair process to evaluate strategic alternatives for the retailer, the report stated.

The state government agency administers retirement and medical benefits on behalf of Oklahoma law enforcement personnel. It is led by president Roy Rogers, an Oklahoma state trooper.

In its lawsuit, the agency takes aim at Casey's recent recapitalization plan, among other things. Under the program, Casey's raised $569 million in a private placement with a group of insurance companies this month and is using the money to buy back up to a quarter of its 50.97 million outstanding shares, at a price between $38 and $40 per share.

"The director defendants are using cash rightfully belonging to Casey's and its shareholders for their own purposes, causing the company to buy back stock that Couche-Tard might otherwise acquire so that (they) can maintain control of Casey's," the police group stated in the class-action petition filed Aug. 9, with the Iowa District Court.

In a filing with securities regulators Monday, Casey's said its board believes the claims are without merit and it intends to defend against them vigorously, the newspaper reported.

Three other investor groups have launched separate class-action suits against the convenience store retailer and its board members. Each has made similar accusations, namely that Casey's directors have breached their fiduciary duties to Casey's shareholders by refusing to negotiate with Couche-Tard.