Utah Cigarette Tax Hike Hurts Sales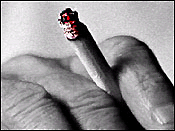 SALT LAKE CITY – Increases in the state cigarette excise tax on cigarettes have negatively impacted convenience store retailers, as published reports indicate sales of cigarettes have dropped.

On July 1, the Utah state cigarette tax jumped from 69.5 cents per pack to $1.70. That month, orders for the tax stamps that have to be attached to every pack sold in the state fell dramatically, according to a report by the Salt Lake Tribune.

The Utah Tax Commission sold stamps for roughly 2.8 million packs of cigarettes, approximately half as many as it sold on average for the first five months of 2010, and a drop from the more than 9 million stamps it sold in June, the month before the tax took effect, the report stated.

"The magnitude of the drop surprises me," David Davis, president of the Utah Retail Merchants Association, said in the report. "I think that folks were filling their cabinets or filling their pantries. They knew the tax increase was coming so they went out and bought ahead."

Jim Gibbs, owner of The Tobacco Store in South Salt Lake, told the newspaper his sales are down sharply since the tax took effect.

"Sales are down, I would guesstimate, somewhere between 25 and 30 percent," Gibbs said. "I haven't seen many people quitting. They're just cutting back because they simply can't afford it. They've taxed the lowest income people there is and that's the smokers."