Valero Kicks Off Football-Themed Sweepstakes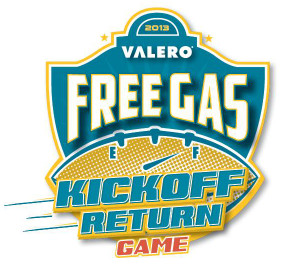 SAN ANTONIO -- Customers at Valero-branded convenience stores have the chance to win a variety of prizes, including a trip for two with VIP access to the 2013 Valero Alamo Bowl in San Antonio, as part of a new sweepstakes launched today.
The grand-prize package consists of two VIP tickets to the 2013 Valero Alamo Bowl with airfare and hotel included, along with an opportunity to win free Valero gasoline for up to five years. The grand-prize winner will have the chance to return a kickoff at the game, and for every 20 yards run within 10 seconds, they will earn a year's worth of free gasoline.
The Valero Free Gas Kickoff Return Game runs from Oct. 1 through Dec. 30. Customers can enter by making a Valero credit card purchase, completing an approved Valero credit card applicatio, or filling out an entry form at any participating Valero-branded location. Entries can also be made via an approved Valero credit card application by phone or online; by registering at www.valerowinfreegas.com; or by playing a football trivia game on Valero's Facebook page at www.facebook.com/valeroenergy.
"Valero is keeping America moving, and America loves football," said Gary Arthur, Valero's senior vice president of wholesale marketing and product supply. "This sweepstakes is a great way for our customers to win prizes every day, and a great way for our branded stores to get involved with the college football season."
Throughout the three-month promotion, participants can also win daily prizes, such as music downloads and $10 Valero gift cards via the Valero Free Gas Kickoff Return Game on Facebook.