Valero Records Best Quarter Since Q3 2008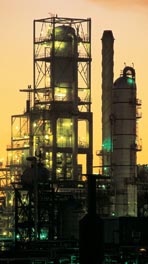 SAN ANTONIO -- Reporting its best results in nearly two years, Valero Energy Corp. reported income from continuing operations of $530 million for the second quarter of 2010, compared to a loss from continuing operations of $191 million for same period last year.

For the six months ended June 30, 2010, income from continuing operations was $429 million, compared to income from continuing operations of $173 million for the period in 2009. Operating income in quarter was $921 million, vs. an operating loss of $192 million in the quarter last year. The $1.1 billion increase in operating income was mainly due to higher margins for diesel and many of the company's secondary products, as well as better discounts for low-quality feedstocks.

"It's great to be profitable again," said Valero Chairman and CEO Bill Klesse. "Our second quarter results really showed the earnings power of our assets. ... Another highlight is that our refining operating expenses for the second quarter fell to $3.55 per barrel, which was our lowest cost per barrel since the second quarter of 2009."

Commenting on the outlook for refining, Klesse said: "So far in the third quarter, product margins and feedstock discounts have continued at relatively good levels, although down from the second quarter in most of our regions. We remain cautiously optimistic that global economic expansion will drive growth in refined-products demand. Valero makes and sells fuels, so we need consumers to get back to work and the economy to grow faster."

The company's retail segment continued its record-setting performance with $109 million in operating income, which was the best second quarter in Valero's history. Canadian retail operations continued to perform well with $33 million of operating income, while the U.S. operations had impressive results of $76 million in operating income on strong fuel margins at its gas stations and convenience stores.

"Our ethanol business also continues to do well with $35 million of operating income in the second quarter despite difficult industry conditions," Klesse said. "We have established a strong position as one of the largest, most competitive producers in the ethanol industry by building a portfolio of world-scale, cost-advantaged plants. Acquiring these plants at large discounts to new-build prices and leveraging our overhead structure has helped us to earn good returns on investment, even when margins were low."

Kleese added: "While we are pleased with the second quarter results, our priorities are to reduce costs and maintain our strong financial position."

Early in 2010, the company announced a goal to achieve $100 million in pre-tax cost savings this year. At the end of June, Valero was ahead of schedule, having already captured $90 million of cost savings.