Village Pantry to Expand Hunt Brothers Pizza Partnership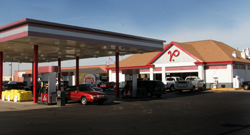 FARMLAND, Ind. -- Village Pantry is expanding its partnership with Hunt Brothers Pizza by adding the made-to-order pizza program to its eighth store in Indiana. The new Farmland location, at 100 East Jackson St., will be open 24 hours a day, seven days a week.
"We have grown with Hunt Brothers in more than 15 of our locations, as the pizza has performed very well and shown strong customer appeal," stated Chad Prast of Village Pantry. "The Hunt Brothers organization is great at developing programs to help drive customer traffic, and we're pushing for the Farmland location to be one of Village Pantry's best performers yet."
VPS Convenience Store Group -- an affiliate of Sun Capital Partners Inc. -- is the parent company of Village Pantry, which operates more than 400 stores throughout the Southeast and Midwest.
With more than 6,000 locations in 28 states, Hunt Brothers Pizza is the nation's largest brand of made-to-order pizza in the convenience store industry. Headquartered in Nashville, Tenn., the company provides all of the food products, marketing programs, equipment and training for convenience store retailers to operate their own turnkey pizza program.