Waiting for Retail Property Prices to Correct

Retail property prices are set to increase 33 percent. This represents the correction that is needed to align current prices with the long-term trend. This method of predicting future real estate price movements by examining the long-term trend line is a fundamental element of the widely watched Case-Shiller Home Price Index. As Robert Shiller, the Yale economist and co-developer of the index, states: "Ultimately, we learn to forecast by looking at past episodes."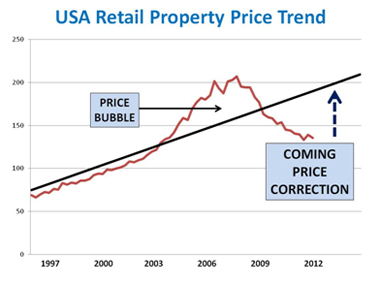 The graph accompanying this column shows the price movement in retail commercial real estate from 1997 to early 2012. The pricing bubble of 2006-2007 is clearly evident as that area of the red line above the black long-term trend line. The real estate price decline that followed the bubble is now below the long-term trend line and this can be interpreted as an over-reaction. In other words, property prices will rise or fall to adjust to the long-term trend.
In the first quarter of 2012, the index is 33 percent below the long-term trend. So, an upward price correction is overdue. If an economic recovery is delayed in 2012, the price correction for 2013 will be even greater than 33 percent.
The Retail Property Price Index is developed by CoStar Group and is part of their Commercial Repeat Sales Indices (CCRSI). This index is superior to many others because it uses actual re-sales of commercial retail properties to calculate the price changes over time. This is a better methodology than inferring price changes from statistical models as it is a more direct measure of the real estate market.
We may be seeing the beginning of a price recovery in commercial real estate. The CoStar CCRSI National Composite Index increased by 1.5 percent in January 2012 and is holding through the first quarter. This index includes all categories of commercial real estate, such as multi-family, industrial, office and retail, and is now 1.9 percent above the 2011 level. In other words, commercial real estate prices are up an average of about 2 percent across the nation from a year ago.
Real estate is a lagging economic indicator. The broad-based economy generally improves before real estate prices. Retail property prices will begin their sustained upward movement when consumer spending returns and lenders once again provide the financing and liquidity that business owners need to operate and expand.
We will continue keep an eye on the movement of retail property prices, and especially convenience store real estate values, in this crucial period of healing from the worst economic turmoil since the 1930s. Stay tuned. The next few months should be interesting.
Robert E. Bainbridge is an author, instructor and expert witness in the appraisal and valuation of convenience stores and gas stations. He can be reached at [email protected] or (541) 823-0029. Find more valuation information at www.cstorevalue.com.
Editor's Note: The opinions expressed in this column are the author's, and do not necessarily reflect the views of Convenience Store News.
Click here for more columns by Robert E. Bainbridge.