Walgreens Plans Further Foodservice Expansion
DEERFIELD, Ill. -- In many areas of the United States, a Walgreens drugstore is a common sight and a top destination when shoppers need to fill a prescription or pick up a health and wellness item. Recently, though, this convenience store competitor is also making a name for itself as a good place to get a meal, snack or beverage through the evolution of its Up Market foodservice program.
First available at The Walgreen Co.'s flagship Duane Reade store, which opened at 40 Wall Street in New York City in 2011, Up Market offers fresh sandwiches, sushi, a juice bar and more to urban professionals who might not have time for a quality restaurant meal in the middle of the workday.
Since then, Up Market has expanded to six more U.S. stores — two additional Duane Reade locations and five Walgreens locations. Further expansion of the concept is planned for the future.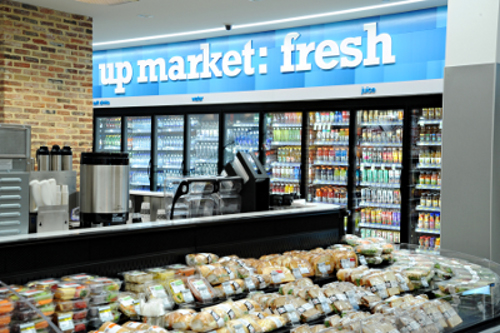 While the Deerfield, Ill.-based drugstore operator remains committed to being a great pharmacy, there is plenty of competition angling for a piece of that market. So, the retailer asked itself: "What do we need to do to break out of that channel?" recalled Jim Jensen, vice president of global partnerships.
With the goal of staying true to the company's motto of existing "at the corner of happy and healthy," and by focusing on the three pillars of beauty, health and convenience, it was decided that foodservice would become a major component of The Walgreen Co.'s "Well Experience."
Despite the larger store footprint of the locations with Up Market, a major challenge is "packaging this whole offer in a spot and a space that's typically much smaller than any single business would offer," Jensen said. That challenge continues to grow as the company adds to its foodservice offerings in the form of the "Up Market: Chop" gourmet salad bar and the "Up Market: Café," which brews regular drinks and specialty beverages built to order.
Offering so many options in such a small format, while keeping quality and food safety at a top level, is a key component of what sets Duane Reade and Walgreens stores apart from competitors, according to Jensen. "The idea is: What's the best possible quality we can offer in the store?"
Along with quality, freshness and customization, the company prioritizes food safety and employee training to combat the common perception that c-stores and their competitors fall down in these areas. "We took that seriously here," Jensen said.
The company's internal quality assurance team maintains a safety training program that includes certification and hires Up Market-only employees. Rather than share them with other departments, Up Market workers receive specific training and stay where they are. "This is what they do," he added.
Like many c-stores that have revamped their foodservice programs, The Walgreen Co. is "absolutely" looking to become a purposeful destination for hungry shoppers, not just an impulse visit, Jensen confirmed.
More Up Market locations are planned or are already under construction, and while not every store will be large enough, results so far are giving the chain "a lot of confidence" that customers in any area will be interested in Up Market offerings, according to Jensen.
No specific store count is being targeted at this time, but as the company identifies the right cities and store locations, it plans to put deals together where it can.