Wawa Welcome America! Festival Sizzles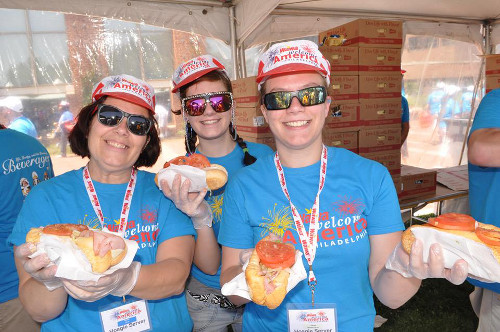 PHILADELPHIA -- The Wawa Welcome America! Festival began heating up the City of Brotherly Love with a hoagie giveaway -- the opening event of a weeklong celebration of Independence Day.
Wawa Inc., which is back as the festival's title sponsor, got the celebration in full swing with Wawa Hoagie Day on Tuesday. People began gathering at the National Constitution Center in the early hours of the morning to help build 15,000 hoagies -- made with more than 500 pounds of ham, 1,000 pounds of provolone cheese and 2,000 pounds of sliced tomatoes, according to CBSPhilly.com.
Free hoagies were handed out to visitors at the Independence Visitors Center lawn and thousands of hoagies were also donated to Philabundance, a regional hunger relief organization. This is the 21st year of Wawa Hoagie Day and the 18th year the event has worked with Philabundance.
"As a part of Hoagie Day, we are dedicating 5,000 of the first hoagies built to go to Philabundance," said Lori Bruce, Wawa spokeswoman. "We want it to be Hoagie Day for everyone so we want to make sure everyone has hoagies."
The Fourth of July celebration continues through the weekend with events including the Taste of Philadelphia, Go 4th and Learn, firework displays and the annual Philly 4th of July Jam. This year's concert features The Roots, returning as the house band, along with John Mayer, Demi Lovato, Jill Scott, Ne-Yo, Grace Potter, J. Cole along with Ben Taylor and other special guests.
Wawa, which is based in the Philadelphia area, owns and operates more than 600 convenience stores, including 300 gas stations, in Pennsylvania, New Jersey, Delaware, Maryland, Virginia and Florida.