What's In Store: Casey's, Kwik Trip, Love's, Locali & NOCO Express
Get great content like this right in your inbox.
Subscribe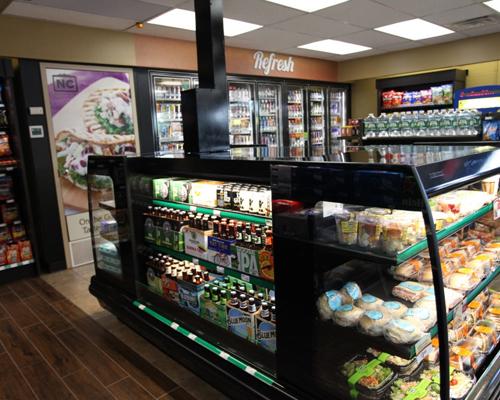 NATIONAL REPORT — The convenience store industry landscape is constantly changing as chains open and close stores each week. On a regular basis, Convenience Store News highlights these comings and goings in this special roundup.
Casey's General Stores Inc.
Casey's General Stores Inc. is building a second c-store in Litchfield, Minn. The store is rising on the site of a former Save-a-Lot building and is slated for completion in December or January.
Set occupy a spot larger than a typical Casey's location, the convenience store will include a larger selection of food and drinks, and a beer cave. The forecourt will feature five fuel pumps.
Cumberland Farms
Cumberland Farms opened a newly remodeled convenience store in Eastham, Mass., on June 22. The c-store boasts new architectural features and a modernized layout.
In addition, it features a bar counter, 16 parking spaces and four fuel pumps. The store also offers a variety of hot food items from pizza to chicken tenders.
Kwik Trip Inc.
Wisconsin-based retailer Kwik Trip Inc. is growing in its home state with four new convenience stores coming on line between mid-August and November. The first opened in August in Ashland, and will be followed by two more in town in October and December. A fourth store will welcome customers in November in Park Falls.
Planning for the Ashland stores started approximately three years ago, when Kwik Trip began adding stores in the Twin Ports area. Since Kwik Trip arriving in the Twin Ports, the retailer has opened 19 stores with several more development phases in Carlton and Hermantown.
Locali
Los Angeles-based concept Locali will open its fourth location in West Hollywood this fall. News of the new location comes as Locali signed a deal with Fransmart as their exclusive franchise development partner to grow the brand in new markets.
Fransmart is the franchise development company responsible for the growth of brands like Five Guys Burgers and Fries, The Halal Guys, and Qdoba Mexican Grill.
The menu at Locali, a health-conscious convenience concept, features natural, certified-organic and locally sourced ingredients; antibiotic and hormone free deli meats from animals that have been fed a vegetarian grain diet; and an array of vegan, vegetarian, and gluten-free options.
"Our goal is to change the way people think about healthy eating," said co-founder Melissa Rosen. "We've been really successful because of our passion to serve customers amazing food that also helps them live better lives by choosing healthier options that are planet-friendly, without having to sacrifice flavor.
"This is matched with a business model which is nubile and sustainable and always trendy, but not trend dependent. We're excited to take this mission and unique food service model to consumers and entrepreneurs in new markets through franchising," she added.
Locali is currently looking for experienced and qualified franchise partners in the United States.
Love's Travel Stops & Country Stores
Love's Travel Stops & Country Stores opened three new locations in August, including two in North Carolina.
On Aug. 3, the retailer threw the doors open at a new Love's Travel Stop in Mebane, N.C. The new 13,000-square-foot facility offers Hardee's, Chester's Chicken and Godfather's Pizza Express restaurants, public laundry facilities, 82 truck parking spaces, seven showers, nine diesel fuel pumps, a Love's Truck Tire Care center and other services for drivers.
The store also offers gourmet coffee, fresh fruit, name-brand snacks, and gift merchandise.
Three weeks later, Love's added more than 200 truck parking spaces with the opening of two new stores in Newton, N.C., and Beaumont, Texas, on Aug. 24.
The Newton store features a Hardee's restaurant, five showers and 104 truck parking spaces. The Beaumont Love's offers Arby's, Chester's Chicken and Godfather's Pizza Express restaurants, seven showers, a game room and 115 truck parking spaces.
Both travel stops offer laundry facilities, gourmet coffee, fresh fruit, name-brand snacks, gift merchandise, and Love's Truck Tire Care centers.
NOCO Express
Family-owned and locally operated NOCO Express completed renovations at its store located at 2596 Sheridan Drive in Tonawanda, N.Y. The month-long interior and exterior remodel features an updated look and expanded fresh and convenient food offerings.
"We understand that our customers are looking for quick grab and go food options, but that there has been a changing shift towards choosing better for you items," said Jim DeFilippis, vice president and general manager, NOCO Express. "This remodel enables us to provide our Tonawanda area customers with an easier to shop store with more variety of fresh Nickel City sandwiches, salads, and healthier snacks to choose from."
The interior remodel included a transformation to a new open footprint for better visibility of products displayed throughout the store. A cooler island features freshly prepared and pre-packaged sandwiches, salads, wraps, and snack packs from NOCO's signature Nickel City Foods, which are available throughout the day.
Customers can also find an expanded beer selection, including a variety from local breweries. New wall graphics installed throughout the store add to the overall refreshed look.
The exterior of the Tonawanda location also received an update, which includes the installation of new fuel pumps in the coming weeks.
Pilot Flying J
Travel center operator Pilot Flying J opened a new location in Cocoa, Fla., on Aug. 19. The 12,513-square-foot Flying J Travel Center is the company's 29th location in the Sunshine State and is expected to contribute $3.9 million annually in state and local tax revenues.
The Flying J Travel Center features 14 fuel pumps and eight diesel lanes with high-speed pumps; a PJ Fresh fast-casual offering; a Wendy's restaurant; and a Cinnabon.
On Sept. 1, Pilot Flying J opened a new Flying J Travel Center in Lathrop, Calif. The travel center's amenities include 12 fuel pumps for gas and nine diesel lanes with high-speed pumps; a PJ Fresh fast-casual offer; and premium coffee and cappuccino selections.
The new facility is Pilot Flying J's 21st location in California, and it is expected to contribute $10.6 million annually in state and local tax revenues.
Sheetz Inc.
Sheetz Inc. welcomed customers at its sixth location in the State College area of Pennsylvania on Aug. 31. The convenience store features beer sales, two outdoor seating areas, and gas pumps.