What's In Store: Parker's, Spinx, Stewart's Shops & Weigel's
Get great content like this right in your inbox.
Subscribe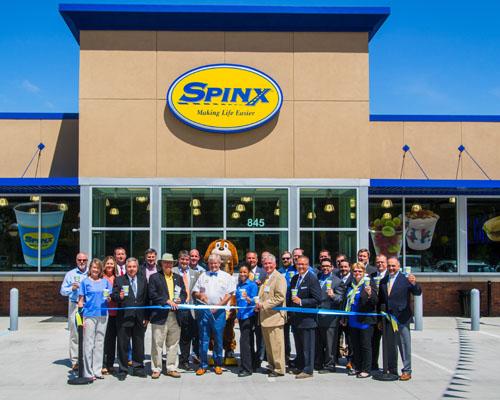 NATIONAL REPORT — The convenience store industry landscape is constantly changing as chains open and close stores each week. On a regular basis, Convenience Store News highlights these comings and goings in this special roundup.
Love's Travel Stops & Country Stores
Love's Travel Stops & Country Stores was busy in May, adding more than 300 truck parking spaces along U.S. interstates.
The locations and their amenities are:
Cotton County, Okla., along Interstate 44 features a Subway restaurant, three showers and 59 truck parking spots.

Belen, N.M., along Interstate 25 offers an Arby's restaurant, laundry capabilities, five showers, a Love's Truck Tire Care center and 62 truck parking spots.

Boyce, La., along Interstate 49 features an Arby's restaurant, 55 truck parking sports, five showers, laundry capabilities and a Love's Truck Tire Care center.

Hanson, Ky., along Interstate 69 features

a Hardee's restaurant, five showers, laundry facilities and 63 truck parking spots.

Lufkin, Texas, along U.S. Highway 59 North offers an Arby's restaurant, Love's Truck Tire Care center and 94 truck parking spots.
Parker's
Parker's welcomed guests at a new c-store in St. Helena Island, S.C. The retailer's 53rd store opened at 856 Sea Island Pkwy.
"We took a dilapidated, metal-sided building and replaced it with a beautiful new convenience store defined by inspired Lowcountry vernacular architecture," said Parker's President and CEO Greg Parker. "We are incredibly honored to be part of the St. Helena Island community."
The location features a full-service Parker's Kitchen with extended foodservice hours from 5 a.m. to 7 p.m., seven days a week. Customers can enjoy fresh Southern Fried Chicken Tenders made from scratch daily as well as a full breakfast bar, daily specials, family meal deals, sandwiches and cookies.
The retailer's 15th convenience store in South Carolina also offers a full selection of signature Parker's amenities, including:
Fountain drinks with Chewy Ice

Fresh-brewed iced tea and lemonade

Bean-to-Cup Guaranteed Fresh Coffee

28-degree beer, including a selection of popular craft beers

Regular, mid, premium, diesel and marine fuel 
Royal Farms
Baltimore-based Royal Farms filed plans to build a convenience store in Brick Township, N.J. The south New Jersey town is long-considered Wawa territory. If approved by the township planning board, the 4,649-square-foot store would rise at the intersection of Routes 88 and 70. Plans also call for eight fuel pumps under a 5,280-square-foot canopy.
Royal Farms opened its first c-store in the state in Magnolia in November. Other New Jersey locations soon followed in Bellmawr and Gloucester City.
The Spinx Co.
Spinx cut the ribbon on its newest store at 845 Jedburg Road in Summerville, S.C. on May 3. The c-store is the 11th new-to-industry Spinx location in the Lowcountry region and the fourth in Summerville.
The store boasts 18 fuel pumps, a truck diesel island serving diesel exhaust fluid at the pump, a rollover car wash, more than 40 parking spaces, and a 6,188-square foot convenience store with a full-service kitchen.
The full-service kitchen provides made-to-order fruit, yogurt and coffee smoothies, and prepares fresh fruit, yogurt and vegetable cups and sandwiches as part of Spinx's Fresh On The Go offering.
Stewart's Shops Corp.
Customers joined in the grand opening celebration of the remodeled Stewart's Shop at 4834 County Route 81 in Greenville, N.Y. New features inside the store include a beverage bar with fountain soda, espresso drinks, and iced tea decanters; an extended beer cave; and pizza.
The Stewart's Shops also boasts expanded seating and fuel service, including diesel.
Wawa Inc.
Wawa continues to grow in Washington, D.C., with a new c-store slated for Tenleytown. The 7,000-square-foot location sits next to the Metro's Red Line station and on the street level below a Whole Foods Market parking garage at the corner of Albemarle and 40th streets NW.
The convenience store, which will welcome customers either later this year or early 2019, will also be near several bus lines and American University.
Weigel's
Weigel's stayed close to home when it opened its 66th convenience store. The c-store is located near the retailer's corporate headquarters in Powell, Tenn., at 7505 Clinton Highway.
The newest Weigel's features a Weigel's Kitchen NOW OPEN, a dedicated quick foodservice kiosk, where customers can order made-to-order food for all dayparts. The Weigel's Kitchen NOW OPEN also offers soft-serve ice cream and shakes.
Weigel's dairy delivers fresh milk and its Knoxville-based bakery delivers fresh baked goods.