Where Generation Y Likes to Dine
BOSTON -- Generation Y consumers are a crucial spending force in the quick-service restaurant (QSR) industry, according to an Executive Insights report titled "Winning the Hearts (and Wallets) of QSR Consumers" by L.E.K. Consulting. The firm's survey of 1,300 U.S. consumers found that "Millennials," ages 16 to 24, have specific preferences that differ from those of the general population.
"Our research shows that many QSR brands that perform well across the general population are falling short with Gen Y," said Alan Lewis, vice president in L.E.K. Consulting's Consumer Products Practice.
Twenty percent of Millennials purchase from a QSR almost every other day, according to the report, while less than 50 percent of Baby Boomers purchase from them so frequently. Forty percent of Generation Y consumers also state that friends influence their meal and snack selections, which is twice the level of other age groups.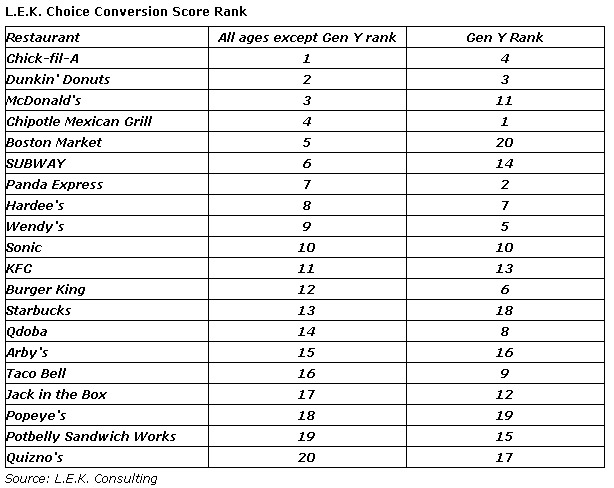 Chipotle Mexican Grill and Panda Express achieved the top choice conversion score -- a ranking that measures the strength of a brand's connections with what consumers are seeking -- for Generation Y in the survey. While chains such as Dunkin' Donuts, Chipotle and Chick-fil-A scored well across all generations, Generation Y showed a greater preference for chains such as Wendy's and Burger King, prioritizing tastier menu items over healthy ingredients, price or convenience, L.E.K. Consulting stated.
Beyond Millennials' specific preference, L.E.K. also found that Generation Y tends to be the most passionate about the chain preferences it does have, rating them an average of 12 percent higher than other generations.
"Winning consumers with traditional value propositions won't be enough to sustain a QSR brand in the future, if it cannot cultivate loyalty from Gen Y today as they increase their spending power," said Jon Weber, vice president and head of L.E.K.'s Restaurant Practice. "QSRs need to think now about ways to recalibrate their offerings, and customer engagement techniques to win and keep Gen Yers' loyalty for the long-term."
For the complete report, click here.