Will a 'Hump Day' Fourth of July Affect Holiday Travel & Spending?
Get great content like this right in your inbox.
Subscribe
NATIONAL REPORT — "Hump Day" signifies the middle of a work week, but as many Americans look to have Independence Day off on a Wednesday, will it affect holiday travel and spending?
According to the National Retail Federation (NRF) and Prosper Insight & Analytics' annual survey, Americans are expected to spend $6.9 billion on food for Fourth of July cookouts and picnics next month, which is a dip from last year's record $7.1 billion as fewer people say they will turn out for the Wednesday holiday.
However, it is still the second-highest amount in the history of the survey and per-person spending is up, the joint survey found.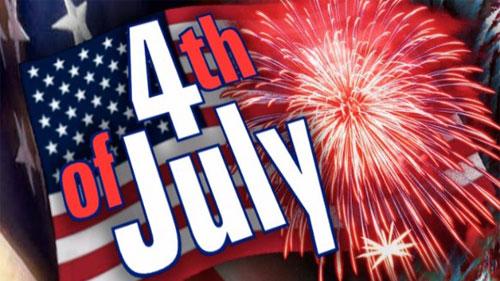 "With the holiday falling in the middle of the week, a few less Americans will be free to celebrate and that affects spending totals," NRF President and CEO Matthew Shay said. "But those who are celebrating by attending or hosting a cookout or picnic, are actually spending more, and retailers will be ready with red-white-and-blue decorations, apparel and food."
According to the survey, more than 216 million Americans (87 percent) plan to observe Independence Day, down slightly from last year's 219 million (88 percent). Nearly 153 million (62 percent) are planning a cookout or picnic, spending an average of $75.35 per person, a new record topping last year's $73.42.
Other Independence Day celebrations include partaking in fireworks or a community celebration (106 million) and attending a parade (30 million). Fourth of July is also a popular time for traveling, as 31 million plan to head out of town, which is down from last year's 33 million. A quarter of respondents (25 percent) said higher gas prices would affect their plans, but the decline in travel could also be related to the timing of the holiday, according to NRF and Prosper Insights & Analytics.
"Over a quarter of Americans plan to buy more patriotic decorations for the holiday this year. We find young people really embrace this holiday, which explains why young people are significantly more likely to buy more patriotic-themed decorations or apparel for the holiday than any other age group," commented Prosper Insights & Analytics Executive Vice President of Strategy Phil Rist.
When it comes to patriotic merchandise, the annual survey found that:
62 percent of consumers already own an American flag

51 percent have patriotic apparel such as a T-shirt or hat

38 percent own decorations

27 percent plan to purchase additional patriotic merchandise, but the number jumps to 44 percent for those ages 18-24 and declines steadily for older individuals.
The NRF and Prosper Insights & Analytics surveyed 7,199 consumers from June 5-13.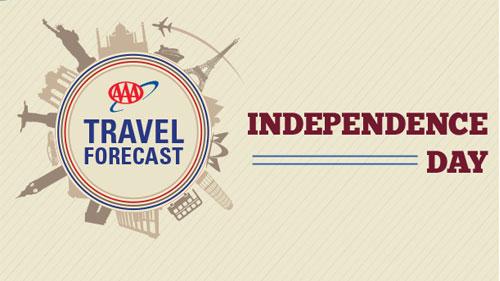 HOLIDAY TRAVEL
Independence Day falling on a Wednesday doesn't seem to have an effect on holiday travel, as a record-breaking 46.9 million Americans will travel 50 miles or more, which is an increase of more than 5 percent vs. last year and the highest number on record, according to AAA.
"This Independence Day will be one for the record books, as more Americans take to the nation's roads, skies, rails and waterways than ever before," said Bill Sutherland, senior vice president, AAA Travel and Publishing. "Confident consumers with additional disposable income will look to spend on travel this holiday, building on an already busy summer travel season."
Independence Day Travel Forecast By the Numbers
Automobiles: 39.7 million travelers will hit the road this Independence Day, a 5.1-percent increase over last year
Planes: 3.8 million Americans will travel by air, a 7.9-percent increase and the ninth year of consecutive air travel volume increases
Trains, Buses & Cruises: Travel across these sectors will increase by 5.8 percent to a total of 3.5 million passengers.
In addition to strong economic variables, the expected increase in travelers this year is helped by Independence Day falling on a Wednesday, giving travelers more flexibility to schedule a trip the weekend before or after the holiday. The Independence Day holiday period is defined as Tuesday, July 3, to Sunday, July 8.
Here are some of AAA other findings regarding Independence Day travel:
Terrible Tuesday
INRIX, in collaboration with AAA, predicts drivers will experience the worst congestion over the holiday week on Tuesday, July 3 in the late afternoon as commuters leave work early and mix with holiday travelers. Travel times could increase two-fold in the major metros across the U.S., with drivers in Los Angeles, New York and Washington D.C., experiencing the most significant delays.
"With a record-level number of travelers hitting the road this holiday, drivers must be prepared for delays around major metros," said Scott Sedlik, general manager and vice president - public sector, INRIX. "Although travel times are expected to nominally increase throughout the week, Tuesday afternoon will hands down be the worst time to be on the road. Our advice to drivers is to avoid peak commuting hours altogether or consider alternative routes."
Stabilized Gas Prices
Gas prices have slowly but steadily started to fall since the 2018 high of $2.97 set over Memorial Day weekend. Since then, the national gas price has dropped 5 cents to $2.92 (as of June 12), which is 57 cents more than one year ago.
Paying Less for Airfare, More for Car Rentals & Hotels
According to AAA's Leisure Travel Index, travelers taking to the skies will pay an average $171 for a round-trip flight along the top 40 domestic routes. That is the lowest Independence Day airfare in five years, and 9 percent less than last year. However, travelers can expect to pay more to rent a car and stay at mid-range hotels this Independence Day. At $66, the average daily cost of a car rental is a slight increase of 2 percent over last year.
Major Draws
This Independence Day, travelers will flock to theme parks in Orlando and southern California, while many others are heading west. Alaska cruises departing from Seattle, Anchorage, Alaska, and Vancouver, Canada, round out the top five U.S. travel destinations for the holiday. For those venturing overseas, Europe is a major draw, with Rome, London, Dublin and Paris all making the list of top international travel destinations for Independence Day.
Top Domestic Travel Destinations
Orlando, Fla.
Anaheim, Calif.
Seattle
Anchorage, Alaska
Honolulu
Top International Travel Destinations
Rome, Italy
London, England
Dublin, Ireland
Vancouver, Canada
Paris, France