Will Valentine's Day 2019 Bring Love for Retailers?
Get great content like this right in your inbox.
Subscribe
NATIONAL REPORT — Consumers are expected to spend a record amount on Valentine's Day this year despite a years-long decrease in the percentage of people celebrating the holiday.
According to an annual survey released today by the National Retail Federation and Prosper Insights & Analytics, respondents said they would spend an average $161.96 on Valentine's Day. This figure represents a 13-percent increase from last year's $143.56 and tops the previous record of $146.84 set in 2016.
Total spending is expected to be $20.7 billion, which is an increase of 6 percent over last year's $19.6 billion and breaks the previous record of $19.7 billion, also set in 2016.
The spending increases come even though only 51 percent of Americans plan to celebrate the holiday, down from 55 percent last year and a high of 63 percent in 2007. It is unclear why the number of consumers celebrating has trended downward over the past 12 years, but spending, while varying with the economy, has generally trended up. The lowest spending during the period was $102.50 in 2009 during the Great Recession, according to the survey.
Of the $18.40 increase in average spending, only $4.26 comes from spending on spouses and significant others, which is expected to total $93.24. Consumers said they would spend $29.87 on other family members (up $4.58); $9.78 on friends (up $2.59); $8.63 on children's classmates or teachers (up $1.37); $7.78 on co-workers (up $2.99); $6.94 on pets (up $1.44); and $5.72 on others (up $1.17).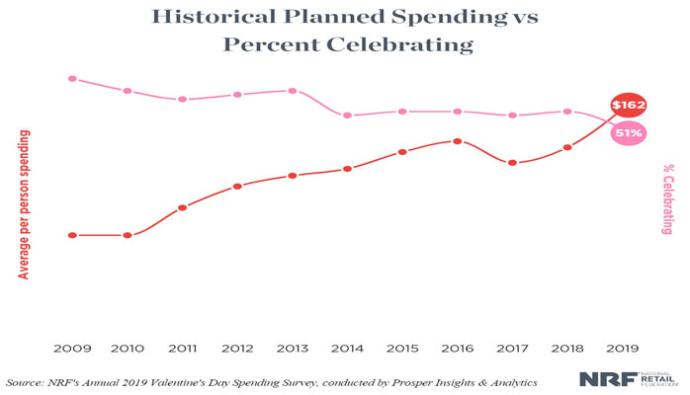 "The vast majority of Valentine's Day dollars are still spent on significant others, but there's a big increase this year in consumers spreading the love to children, parents, friends and coworkers," NRF President and CEO Matthew Shay said. "Those who are participating are spending more than ever and that could be the result of the strong economy. With employment and income growing, consumers appear to be expanding the scope of who qualifies for a card or a box of candy."
Among other findings in this year's survey include:
Men are the biggest spenders at $229.54, up 20 percent from 2018. That's more than double the $97.77 women said they would spend, which is down 1 percent.

Among age groups, those 35-44 are the biggest Valentine spenders at $279.14, followed by those 25-34 at $239.07. 

20 percent of respondents said they will purchase gifts for pets. Pet spending is expected to total $886 million, up $519 million since NRF first asked in 2008.

Those celebrating plan: to spend $3.9 billion on jewelry (given by 18 percent), $3.5 billion on an evening out (34 percent), $2.1 billion on clothing (18 percent), $1.9 billion on flowers (35 percent), $1.8 billion on candy (52 percent), $1.3 billion on gift cards (15 percent) and $933 million on greeting cards (44 percent).

Gifts of experience such as tickets to an event or a trip to a spa are wanted by 40 percent and planned to be given by 25 percent.
Additionally, department stores are the most popular Valentine's Day shopping destination, visited by 35 percent of shoppers, followed by discount stores (32 percent), online (27 percent), specialty stores (18 percent) florists (16 percent), small or local businesses (14 percent), jewelry stores and specialty clothing stores (each 9 percent).
Even among those who don't plan to celebrate Valentine's Day, 11 percent plan to treat themselves to gifts like clothing or jewelry, and 9 percent plan to get together with other single friends or family.
"Valentine's Day means different things for different people," Prosper Vice President of Strategy Phil Rist said. "Whether it's a day of romance or one of making sure their children have enough cards in their backpacks for each of their classmates, it's an important day for those who choose to participate."
The NRF and Prosper Insights & Analytics surveyed 7,384 adults from Jan. 2-9.
SWEET TREATS
Valentine's Day is usually marked by sharing sweet treats with others, and that's what 80 percent of Americans say they plan to do this holiday season, revealed a new survey from the National Confectioners Association (NCA).
A whopping 92 percent of Americans also agree that chocolate and candy are a treat, and it's a perfect gift to give in February.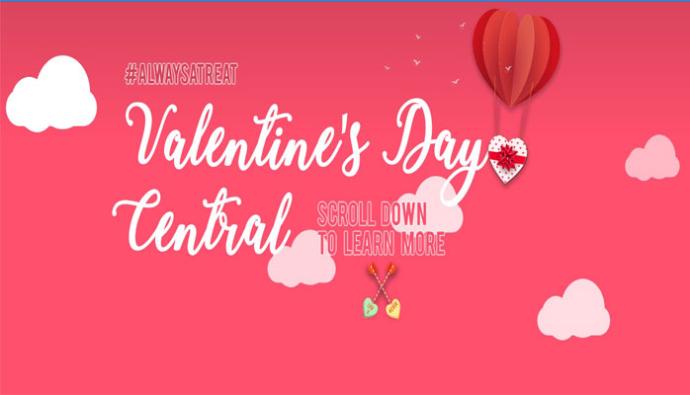 "We know that most Americans enjoy chocolate and candy two to three times per week, including at special candy moments like Valentine's Day," said John Downs, president and CEO of the NCA. "The gift giving tradition spans generations and is a highlight of the holiday. But we know that people are also interested in understanding how they can make informed choices about the treats they enjoy at the holiday — and throughout the year."
Although consumers place to give sweet treats like candy and chocolate, they are still cognizant of their sugar intake. To help these consumers, NCA launched Valentine's Day Central, a new digital hub with a focus on balance and mindful treating.
"We are so proud of our industry's efforts to support consumers as they enjoy their favorite treats," Downs said. "We work hard to ensure that everyone can feel good about sharing chocolate and candy with the special people in their lives, helping to make Valentine's Day a fun holiday for all."
SWEET retreat
Just in time for Valentine's Day, Mars Wrigley Confectionery U.S. will present a candy-inspired pop-up salon, Sweet ReTREAT: Refresh Lounge.
Building on the success of last year's inaugural event, which offered guests a "treat yourself"-themed salon, this year's Sweet ReTREAT debuts a refreshed focus. The mint and gum-themed pop-up will provide an oasis where New Yorkers can freshen up before a romantic date night, mix and mingle, or just kick back and relax — all compliments of Mars Wrigley Confectionery, the company said.
This year's treatments and salon services will include:
The Candy Counter Touch-Up Makeup Bar: Makeup refreshes inspired by Mars' treats: TWIX bars, Extra gum, Snickers bars, Big Red gum and more.
The Mini-Manicure: Candy lacquers inspired by the five fruity flavors of Skittles bite-sized candies and the fresh and minty bursts of Orbit and Extra gum and mints.
The Blowout, Braid and Touch-Up Bar: Blow-outs, braids and beard treatments inspired by the essence of favorites like Altoids mints and Hubba Bubba bubble gum.
The Mars Wrigley Confectionery Lounge: While visitors wait for their appointment or plus-one, they can sink into comfy couches and relax. They will be surrounded by minty, refreshing aromas, like the burst of effervescent flavor that comes with the first bite of 5 gum.
Located at 111 Grand St. in New York City's SoHo neighborhood, weet ReTREAT: Refresh Lounge is open Feb.13-14 from noon to 8 p.m. EST. It is currently taking reservations at marssweetretreat.com.
"We're excited to be bringing our Sweet ReTREAT to life again this year, this time emphasizing the better moments our treats create for consumers," said Hank Izzo, general manager, Gum, Mints and Ice Cream, Mars Wrigley Confectionery U.S. "Gum and mints play an important role in peoples' lives, especially when you need to look and feel your best. Our treatments this year are meant to make guests feel refreshed and relaxed, pulling inspirations and flavors from our most beloved brands. We continue to treat our consumers year-round and are looking forward to doing so in a new and fresh way with Sweet ReTREAT: Refresh Lounge."