From Zero to 125,000 in Just 36 Months
LA CROSSE, Wis. -- For some convenience store retailers, paper couponing has gone the way of the dinosaur. Coupons delivered via cell phone have now taken over as the delivery method of choice. Mobile couponing has one significant challenge, though, in that it only works if a c-store retailer has the cell phone numbers of a large and growing customer base.
To overcome this obstacle, La Crosse, Wis.-based convenience store chain Kwik Trip Inc. turned to digital marketing software company Signal for a solution. The partnership, now in its third year, continues to deliver impressive results.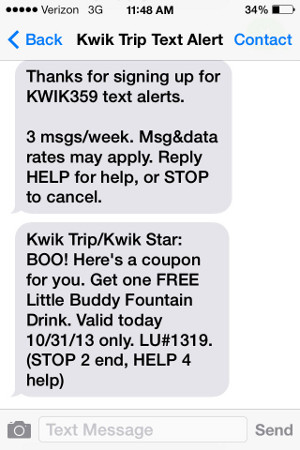 "We still use paper couponing, but we noticed a trend toward digital couponing," Jonathan Steede, social media specialist for the c-store chain of 405 convenience and fuel locations, told CSNews Online. "So, we wanted to get on board with that right away."
Kwik Trip has determined that the best way to gain mobile customers is by sending them alerts that gas prices are about to rise at their local store. This approach not only prompts thousands of customers to hurry over to their local Kwik Trip store and fuel up, but also has enabled the retailer to grow its text message recipients from zero to 125,000 in less than three years.
Even better is that this growth has risen monthly, according to Steede. And he added that customer interest is not waning, even as gas prices have dropped significantly over the past few months. "No matter how low gas prices go, customers still want to save money," he said.
Kwik Trip tested several similar programs before selecting Chicago-based Signal. The retailer liked Signal the most because of its all-in-one dashboard where it can monitor and publish both email and text message programs, as well as social media platforms.
From Pump to the Store
Getting customers to the pump is one thing. Getting them to travel from the pump to inside the store still presents a daunting challenge. "We usually get [customers] into the [text] program because of the fuel price feature," Steede said. "Then, we provide offers that get them to come into the store."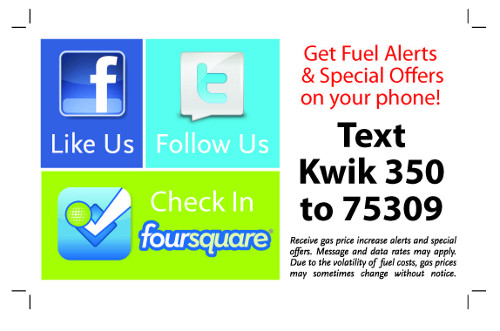 One way Kwik Trip gets customers to walk inside the door is with a 5-cent fuel discount, which cannot be redeemed at the pump. Various discounts on foodservice and packaged beverages are other methods the retailer uses to convert pump visits to in-store traffic.
"We do a lot of tie-ins with things like a free cup of coffee and a free fountain soda," Steede told CSNews Online. "We try to incorporate national holidays for items like free doughnuts and cookies."
Kwik Trip thus far only offers the in-store discounts on its own items, but the chain has been looking to branch out to offering text deals from national vendors. "Vendors have a growing interest in this technology as well," the social media specialist said.
As part of its text program, the retailer assures customers they will receive no more than three messages a week. "We don't want customers to get bombarded with messages," Steede said.
Looking ahead, Kwik Trip wants to learn much more about its mobile customers. "We already have their phone numbers. Now, we want to know their birthday -- so we can start their day with a complimentary cup of coffee -- age, gender, etc. As much as they are willing to give us, so we can customize their couponing experience as much as possible."