25 Years of Leadership: 1992 to 1996
On Sept. 29, 1987, at the NACS Show in Toronto, Chester Cadieux became the first retailer inductee to enter the Convenience Store Industry Hall of Fame, sponsored by Convenience Store News.
As we reported then, it was a fitting tribute to the founder, president and chairman of then-248-store QuikTrip Corp., based in Tulsa, Okla. On that day, Cadieux, a man who had helped shape the convenience store industry for the previous 30 years, became the first in a long line of industry luminaries whose collective entrepreneurship, management style, vision and leadership have forged today's $574-billion convenience store industry.
On this, the 25th anniversary of the CSNews Convenience Store Industry Hall of Fame program, we thought it appropriate to pay homage to our previous inductees and recount some of the highlights of the past quarter-century history of the Hall of Fame program.
Here, we look back on the honorees from 1992 to 1996.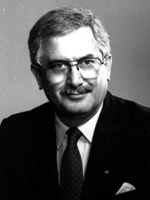 1992: Erich Wendl, Maverick Markets Inc.
The 1992 Hall of Fame ceremony honored one of the founders of NACS and a key contributor to the growth and development of the convenience store industry. Erich Wendl, founder of Maverick Markets, along with R.J. Reynolds Tobacco Co., were inducted in Atlanta during the NACS convention.
"He has never been too busy to give to others of his time, service, talent -- and often monetarily as well," one veteran c-store operator said of Wendl. "He has the respect and love of many of us."
In accepting the award, Wendl thanked his family and the employees of his Corpus Christi, Texas-based chain, noting, "It is a tremendous honor to be selected for this award by my peers, but no one person builds a house alone."
R.J. Reynolds was recognized for its personable -- and knowledgeable -- sales representatives and for its long-time belief in the c-store industry. "This company was one of the first to take a gamble on the c-store industry when it was in its infancy," said a Northeastern retailer. "It was a true early partner to the industry, creating programs specifically for c-stores before other consumer goods companies took a chance on us."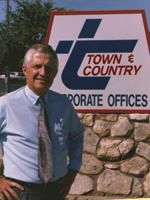 1993: F.L. "Steve" Stephens, Town & Country Food Stores Inc.
When inducted in 1993, F.L. "Steve" Stephens was the chairman of Town & Country Food Stores, overseeing 143 stores in west Texas, eastern New Mexico and the Dallas/Fort Worth metroplex. The c-store/gas chain had annual sales of about $200 million.
"My attitude toward the industry when I entered it as a store manager was: 'What a poor excuse of a way to make enough money to get through college,'" said Stephens. "My chosen career was going to be banking."
However, like many college graduates today, Stephens discovered his chosen field wasn't waiting for him with open arms, while the small c-store chain he had been working for offered him a district manager's position overseeing expansion into San Angelo, Texas. He later became a c-store owner/operator when the chain he worked for over-expanded and began selling off units. He and a partner bought seven stores in San Angelo, and Town & Country was born. (Town & Country was acquired in 2007 by Corpus Christi, Texas-based Susser Holdings Corp.).
"Back then, the convenience store industry didn't have a very strong reputation; it was more of a drive-in grocery store business," Stephens told CSNews at the time of his induction. "The profit margins were pretty meager, but you could make a decent living if you ran the stores right."
Dick Flaig, vice president of national accounts for Coca-Cola Fountain, accepted the supplier Hall of Fame award on behalf of Coca-Cola USA. "No one company has contributed more to our industry or supported its growth more fully," said one retailer of the supplier honoree.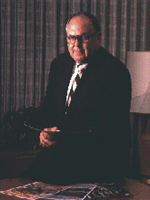 1994: Richard Jensen, SuperAmerica Group
More than 700 retailers and suppliers celebrated the Hall of Fame induction of Richard A. Jensen, former president of Ashland Oil's SuperAmerica chain and Cumberland Farms, along with M&M/Mars in New Orleans. At the time of the induction in 1994, Jensen was working for QuikTrip Corp.
"I've enjoyed 24 years as a member of NACS, and they've been great years," Jensen said in his acceptance speech. "I've had 56 years in retail and wholesale in the petroleum business and the food industry. That's a long time. But I still work -- still want to continue to work -- as long as my mind allows me to."
Jensen's long career began in his high school days in Minnesota when he worked part time at a grocery store for just 25 cents an hour. After serving three years in the armed services during World War II, he returned to the grocery business. Then, in 1952, he joined Mobil Oil just before the oil titan became immersed in the grocery/convenience store business. Thirteen years later, he joined a small family-owned firm in Minnesota, which founded SuperAmerica convenience stores. He ran SuperAmerica until 1988, then was named CEO of Cumberland Farms, a 1,129-store chain based in Massachusetts. After leaving Cumberland in 1999, Jensen went on the serve on the board of directors of Tulsa, Okla.-based QuikTrip.
"The true innovative industry leader is the man who taught us by example -- Dick Jensen," said his friend, Chester Cadieux, at the induction. "He was a brilliant competitor to be both feared and respected. Many chose not to compete with him because of his innovations, his management practices and his retail and merchandising concepts were simply overwhelming. His contributions to this industry were so original, so innovative that the rest of us have needed nearly two decades to fully understand, appreciate and adapt the standards he defined."
On the vendor side, M&M/Mars was voted into the Hall of Fame by the retailer readers of CSNews that year.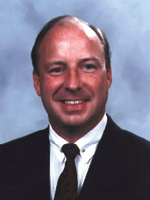 1995: Steve Sheetz, Sheetz Inc.
Steve Sheetz was the 1995 inductee into the Industry Hall of Fame. He went to work for his brother Bob, who founded the convenience store company in 1952, as a part-time store clerk in the early '60s, before becoming general manager in 1969. When his brother retired in 1984, Steve Sheetz became president of the then-100 store convenience chain.
The first Sheetz modern foodservice-oriented facility debuted in 1984. It was a 10,000-square-foot restaurant offering a broad menu prepared in a food theater where customers could watch employees in white chef coats prepare their meals. The store included indoor and outdoor seating for more than 100 customers, the first touch-screen drive-thru, digital menu boards, touchless bathrooms and pay-at-the-pump gas islands.
"Our vision is one of total customer focus," Steve Sheetz, now chairman of the 375-store chain, told CSNews last year, which was his 50th anniversary in the c-store industry. "We are constantly trying to find out what customers want and what we can do to give it to them. We want to create the stores that will put the Sheetz stores as we know them today out of business."
To Sheetz, it's all about never being satisfied.
"As Peter Drucker said, business has two functions, marketing and innovation," Steve Sheetz added in an exclusive interview with CSNews. "Marketing and innovation produce results -- everything else is just a cost. Our vision speaks to that."
Sheetz is also a past chairman of NACS.
Also that year, Miller Brewing Co. became the first supplier to be inducted for a second time into the supplier wing of the Hall of Fame.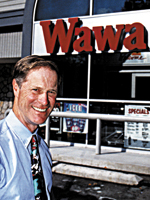 1996: Dick Wood, Wawa Inc.
Richard "Dick" Wood was president of Wawa when he was inducted into the Hall of Fame in 1996. As the great-great-grandson of the dry-goods merchant turned ironworks and textile entrepreneur who launched the company that would later be known as Wawa Food Markets, Wood joined Wawa in 1970 as general counsel. After serving the c-store chain in several capacities, he became Wawa's president in 1977 and CEO in 1981.
"Many companies want you to be good in everything," Wawa Executive Vice President Don Price said about his boss. "Dick says, 'We have eight vice presidents. Don is good at this; we'll put him on this. But he's terrible at that -- so we'll have someone else take care of that.' And Dick does that with all of us."
This approach to managing people, coupled with one of the best training programs in the business, is why Wood took his place among the other luminaries in the Hall of Fame. Under Wood's leadership, Wawa's store manager turnover rate was less than 10 percent. Then, as now, the convenience retailer was famous for its proprietary coffee blend and hoagie sandwiches.
In an interview with CSNews prior to his induction, Wood commented on Wawa's distribution system. "The biggest advantage of vertical integration is what you can do for your stores," said Wood. "We make night deliveries and actually deliver through a rear door into a refrigerated space behind our walk-in box. It would be very difficult to do that dealing with a third party."
Also inducted with Wood in 1996 was Superior Coffee.
For profiles of the CSNews Industry Hall of Fame inductees from 1987 to 1991, click here.