01/10/2018
7-Eleven Brings Back Most-Popular Limited-Time Slurpee Flavor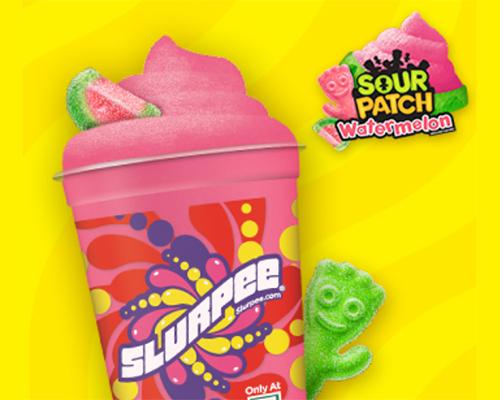 IRVING, Texas — 7-Eleven Inc. is bringing back Sour Patch Watermelon to the Slurpee machine.
The semi-frozen drink is the most popular limited-time flavor in the history of the Slurpee, according to the company, and will be available exclusively at participating 7‑Eleven convenience stores through February 2018, or while supplies last.
Sour Patch Watermelon gained a loyal following after it was introduced in 2015. It became the first limited-time flavor to become the top seller ahead of perennial favorites cherry and cola, the company said.
"Slurpee-lovers really, really love Sour Patch Kids candy," said Sean Thompson, 7‑Eleven vice president of marketing and acquisition integration. "We first approached Mondelez International about creating a Sour Patch Kids Slurpee flavor after learning on social media that Slurpee fans were already enjoying them with the sour candy to their favorite Slurpee drink. Sour Patch Watermelon flavor was a huge hit then, and we expect Slurpee and Sour Patch Kids-lovers will be just as excited to try it this go-round."
Mondelez International's Sour Patch Kids is the No. 1 sour candy brand as well as a top-selling candy at 7‑Eleven stores. Fruit-flavored Slurpee drinks also are among the most popular with 7‑Eleven customers.
Fans of Sour Patch Watermelon can also enjoy the flavor as an exclusive flavor of 7-Select soda, crafted by Jones Soda, and in two- or five-ounce bags of the classic watermelon-shaped candy at participating 7-Eleven stores.
The c-store chain's 7Rewards loyalty program will have digital offers for Sour Patch Kids products in February.
Irving-based 7-Eleven operates, franchises and/or licenses more than 64,000 stores in 18 countries, including 10,900 in North America.