7-Eleven Customers Can Pay Bills with Cash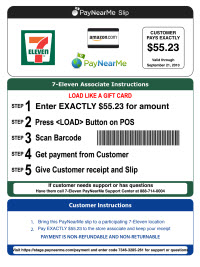 MOUNTAIN VIEW, Calif. -- Working with PayNearMe, 7-Eleven is offering consumers the chance to pay for ecommerce purchases, telephone orders, loan repayments and load funds into e-wallets -- with cash.

PayNearMe combines a modified cash load network with a technology platform that allows consumers without credit or debit cards -- or those who prefer to pay with cash -- to conduct a wide range of remote transactions.

Among the first merchants to use PayNearMe to provide customers with the option to pay with cash at 7-Eleven stores are: Amazon.com, Facebook, Progreso Financiero, MOL AccessPortal, m-Via, Lexicon Marketing LLC, Adknowledge's Super Rewards, Money to Go and SteelSeries.

"7-Eleven views this as an opportunity to provide even more convenience for shoppers because consumers can now easily purchase online products without the need of a debit or credit card," said Jesus Delgado-Jenkins, 7-Eleven's senior vice president for merchandising and logistics. "We want 7-Eleven to be the neighborhood destination for people who prefer or need to pay in cash and to provide all consumers with the same shopping choices no matter how they wish to pay for goods and services."

One-quarter of U.S. households (more than 30 million) -- representing $1.3 trillion dollars in annual spending -- is considered un- or under-banked, according to the FDIC, the Bureau of Labor Statistics and the U.S. Census Bureau. Roughly the same percentage of U.S. households does not have a credit or debit card.

PayNearMe provides these consumers with a method of payment that is simpler to use and often less expensive than the use of pre-paid debit cards, walk-up bill pay or money orders sent by mail. Merchants are notified of consumers' payments immediately and transactions are completed automatically.

"PayNearMe enables almost any business -- e-commerce merchants, catalogers, money transmitters, lenders, collection agencies and more -- to provide a simpler, faster, and often far less expensive payment mechanism to their consumers," said Danny Shader, PayNearMe CEO. "We designed PayNearMe to improve the customer experience for those who prefer to pay with cash so that businesses who serve them can grow their top and bottom lines more quickly."

In contrast to prepaid transactions, where consumers load value onto a card or other instrument and then "push" some or all of those funds to a payee, with PayNearMe, transactions are "staged" by the merchant and completed in real-time when consumers pay at a local store for those staged transactions.

Merchants can use PayNearMe with no integration. Alternatively, they can use PayNearMe's robust development platform to enable highly customized applications that further speed the purchase experience. Because the point-of-sale (POS) terminals at 7-Eleven stores are connected directly to PayNearMe's systems, payees are notified in real-time when their consumer has paid. They may also instruct PayNearMe to print custom messages on consumers' register receipts. These messages can be used to print gift codes, tickets, proof of insurance, loan statements, legal disclosures and more.

For example, merchants are working with PayNearMe to provide insurance products, sell transportation tickets and initiate money transfers. Customers will leave 7-Eleven with proof of insurance, a valid ticket or appropriate legal disclosures, respectively.